Reader Spotlight: Simon Svensson
Meet Simon Svensson, a musician fully engaged in making his own unique music – and big sound – as a solo bassist. That's not to say he isn't following the more traditional role of bassist, but he is striving to create something new with his playing.
Simon is No Treble's reader in the spotlight for the week of September 1, 2014. Here's his story.
Bio:
I'm a solo bassist from Sweden who decided to try creating some music on my own on a bass guitar as a solo instrument. The idea is that my music shall describe complex emotions that can be interpreted in an individual way and thus lead to a unique and personalized experience for each individual listener. Abstract art expressed as music.
The music is experimental and has broad influences from music such as metal, rock, funk, jazz, blues and classical music. I try to achieve the feeling of a full band as a solo instrumentalist, which means it requires a lot of technical playing.
Location:
Uppsala, Sweden
Day gig:
I'm studying physical therapy at Uppsala University. I came to reach that studying music does not fit me. I'm not the right person to make school work out of this hobby. I want to play it because I love it and I'm afraid that making it into studies can weaken my love to this art.
Years experience:
Seven years.
Bands & Gigs:
I'm not in a band at the moment. The last few months I've been focusing a lot on my solo bass work. I still went on a three week U.S. tour as a bassist for a choir that called me in this June. It was a great experience for me, both as a musician and a person, all in all.
Last year, before I moved away from the south of Sweden to the middle of Sweden, I played with a band called Pangaea. It's a melodic death metal band that me and some friends started. I recorded a four-song EP with them and when I needed to move I fixed one of my students in as a bassist. It's going pretty well for them now and they recently released one of their new songs.
This coming autumn I will try playing with a progressive metal band called Violent Silence. If everything feels right for me and them, I will be the bassist on their third album and maybe have some gigs in the U.S. the next summer.
Gear:
Harley Benton 6-string bass
Epiphone Thunderbird 5-string bass
Warwick Take 12 amp
Boss RC-3
Why I play the bass:
It actually happened by accident. The municipality sent out requests for new students to join their municipal music school, and I decided to fill in the papers. I was about 12 back then, and I indicated I wanted to play drums. I then gave it to my mom who said "Drums? Then you're only hitting at things? Wouldn't that be boring?" I then thought about guitar, but I knew so many people that played guitar, so I thought of it as quite boring. I then filled in what looked like a guitar, but wasn't a guitar. I didn't really now what "bass guitar" meant, but I decided to give it a go.
Some months later I received a letter about it and I was quite shocked since I had forgotten I had applied. I then began at the municipal music school. I did my homework until I learned how to play tabs, and realized that I could play whatever I liked at home instead.
My bass superpower/claim to fame:
I'm ready to break the musical "rules" to create something new. I'm ready to try creating what nobody else dares.
My influences:
When it comes to genres it's metal, rock, funk, jazz, blues and classical music
When it comes to bassist, it's hard to say. I think that you in creativity can learn something from everyone and everything. One of my biggest influences in solo bass is Evan Brewer, since he made me realize that I can do this on my own. One of my biggest influences when playing in Pangaea was Arif from Protest The Hero.
Videos: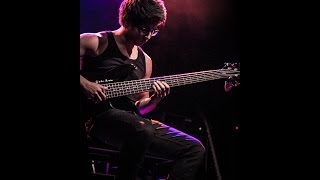 <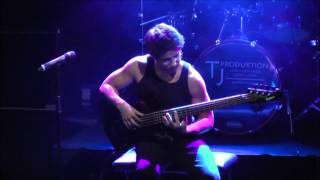 <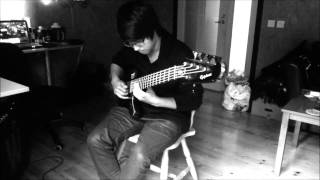 <
<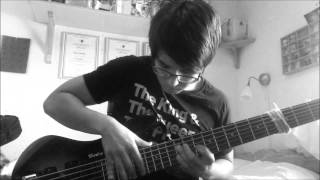 <
More on the web: