New School: Donovan Stokes
Regular No Treble readers will be familiar with Donovan Stokes from his column, The Lowdown with Dr. D, but you may not be as familiar with his playing.
As a professor at Shenandoah University, Stokes is well versed in the classical realm of double bass playing, yet his own compositions draw on an array of genres. His stunning performances often include works for double bass with effects and looping that breach new ground in the world of solo bass.
In addition to his teaching and genre-bending playing, Stokes is a founding member of the Bass Coalition, which seeks to educate bassists from all walks of life while fostering a sense of bass community.
What makes you new school?
I suppose most people would say it was my amplification of the upright bass in conjunction with heavy EFX and looping. I also do some acoustic "crossover" playing and upright slap bass though.
How did you discover your new school style?
I'm still exploring it, of course, but I started using heavy EFX and looping on upright back around 1995. It was a problem at first because the equipment at the time made it very difficult to get the sounds I wanted. Pickups were inadequate, EFX didn't respond well, etc. etc. Musically it was a natural convergence of my electric bass and upright playing. Now I am strictly upright bass but it wasn't until 2005 or so that I focused entirely on upright bass.
Do you have any videos that shows off your thing?
Some, but much has not been recorded yet. As I document more works they will be available on my youtube channel: youtube.com/donovanstokes
Here are a few that are up currently though: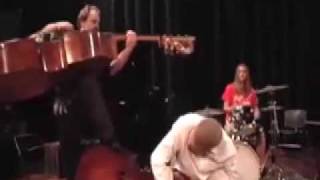 <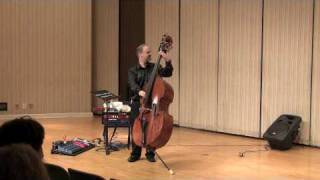 <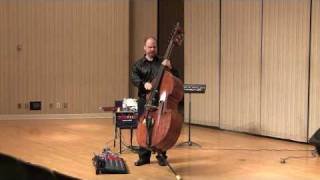 <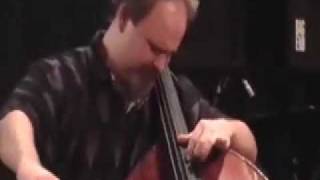 <
What kind of gear do you use?
I use a Rocktron Prophesy preamp and effects unit, an Echoplex Digital Pro (looper), and a Digitech Whammy pedal. I control all of this with a Rocktron All Access Midi controller and a Boss FV-500 expression/volume pedal. I also use a Line 6 wireless system and pickups by Bruce Johnson at Johnson's Extremely Strange Instruments.
What kind of gigs do you get with your new school style?
I generally do three types of gigs playing this style. One is at college campuses sponsored by university/conservatory music departments or symphonies.
Second would be the gigs I do as part of bass festivals or otherwise sponsored by bass clubs.
The third is usually at small coffee houses and bars. Since the small venues don't pay so well, I usually try to tag a small venue solo show to a University visit if I can.
Any traditional playing gigs?

Yes, I play in classical music in a variety of ensembles, small combo jazz and rockabilly music on a regular basis. I also do traditional classical solo bass concerts both with and without the "new school" bent.
Do you have albums where we can hear your new school style?
You can hear my crossover acoustic stuff on my solo album Gadaha. I have not yet captured my electronic music on a recording, other than live performances. It's on the radar to be done.
Where can we find you on the web?
What's next for you?
Who knows. I have been working on a number of traditional classical pieces that I hope to record, as well as new compositions of my own and some future book projects. I am always looking to get my amplified works recorded as well. We'll see what becomes possible first.
What else do you want to share?
I suppose most people who would call me "new school" would say it's the electronics and looping equipment I've been using since the mid 1990's.
However, I think the thing that truly makes me "new school" is the breadth of what I do. The work of people like Stanley Clarke and John Patitucci have shown us the extensiveness we all need as bassists, and musicians, in this day and age.
The upright bassist of the future needs to be able to do it all, jazz, classical, rock, electronics, slap bass, you name it. That is the true new school.