Reader Spotlight: Josh Cohen
Meet Josh Cohen, who has one of the coolest stories about his first bass we've read. (And he has a very cool dad).
Josh is No Treble's reader in the spotlight for the week of January 13, 2014.
Bio
Josh Cohen is an electric bass player, multi-instrumentalist, composer, and bandleader. Having received his bachelor's degree in music from Humber College, he is now currently attending York University for a master's degree in music composition. His thesis is focused on writing compositions for the solo electric bass, drawing inspiration from the work of world renowned bass player composers such as; Victor Wooten, Jaco Pastorius, and many more. Josh aims at not only continuing this tradition, but exploring the possibilities of the solo electric bass even further and bringing this focus into the world of academia, a place that has never seen serious study on this topic but has been codifying the study of solo piano and guitar writing for centuries.
"Every instrument has the ability to sing and connect emotionally with an audience, not just a vocalist, but every instrument whether it be a violin, a tuba or a drum set. It is my intention to allow the electric bass to sing." – Josh Cohen
Location
Toronto/Ontario/Canada
Day gig
While attending graduate studies in music composition at York University I also am the bass player and manager of the Toronto Live Mashup Band BPM KREW. Between working on my solo bass album, managing and playing in BPM KREW and writing my graduate studies thesis I don't have much time for anything else. Still a musician must do what is necessary to make ends meet, so I work a few shifts every month for a company called Firemen Movers where I I spend anywhere from 8 hours to 19 hours a day (my personal record) lifting furniture which is grueling work that puts my fragile bass fingers at risk, so I often act like scared little girl when it comes to protecting my hands and always have my crazy Dakota Tarantula work gloves on.
Years experience
13 Years
Bands & Gigs
I have two main projects at the moment aside from subbing into many different bands on the Top 40, Latin, and Country circuit. I play bass in and manage BPM KREW the Toronto live mashup band who's slogan is "We Replace the DJ" and while they don't mean this in the literal sense the band does everything the DJ can do by seamlessly weaving, mixing and mashing up club songs, but with live musicians. As a bass player I get the opportunity to create synth bass sounds using the Roland VB-99 as well as play a mini nova novation synthesizer for bass patches as well as the odd strings or pads. Sometimes I even get the rare opportunity to play both at the same time using my left hand tapping technique for my bass and my right hand to play pads on the mini nova synth. My other project is of course my solo electric bass project which I am currently composing and recording the material for an album to be released at the end of summer of 2014 and will be part of my master's degree thesis.
Gear
6 – String Ken Smith Black Tiger Elite
Markbass Head
Bergantino 4X10 Cab
Roland VB-99 (I use this for BPM KREW the live mashup band)
Why I play the bass
My younger brother Dan decided to take up guitar just before my 13th birthday and in my usual manner of always competing with my siblings I decided to take up guitar as well. So my father gave Dan his ovation acoustic and gave me his Ibanez electric. After three days of trying to get a handle on the plastic pick between my fingers and the strings, and the fact that I could never remember where I left it, I began to use my fingers instead. When my Dad noticed this he said that electric bass might suit me more, and I asked "What's a bass?" My Dad disappeared into his bedroom and came out with an old battered case that had seen better days and opened it up and there it was, my first bass. It looked like a guitar but had a longer neck and only four strings and the best thing was that I would never need to use a pick again. My Dad told me that it was a special kind of bass, a fretless Fender Precision bass and that it would be a lot more of challenge to learn since it did not have frets. He also told me that it had cost him a lot of money at a garage sale and that he wouldn't give it to me permanently unless I learned where all the notes were and could play by the next time I came to visit him. If I could not do this by the next visit he would take the bass back. So… six months later when I came to visit my Dad again I had learned where all the notes were, could play all the modes of the major scale and had discovered that I could figure out how to play any melody that I could hum even if it took me a few tries. At that age I thought that was like a magic trick and had no idea I was developing my musical ear. 13 years later I'm still playing bass more than ever.
My bass superpower/claim to fame
My passion for solo electric bass arrangements and composition. It is my desire to play compositions and arrangements in their entirety on the electric bass much like a piano player or classical guitar player that forces me to develop extended techniques that some would consider flashy. However, for me they are necessary techniques for fulfilling the simple desire to play a tune on my instrument.
My influences
Electric Bass: Victor Wooten, Marcus Miller, Jaco Pastorius, Dominique Di Piazza, Matt Garrison, Hadrien Feraud to name a few.
As of late I have been very influenced with the work of J.S. Bach in particular his two-part inventions which were designed to not only teach his students how to play separate lines with each hand, but also to cultivate his students ability to compose counterpoint.
Videos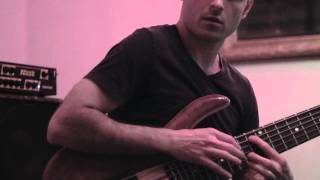 <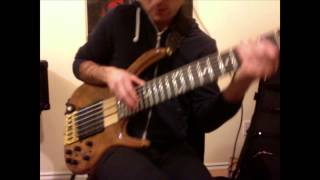 <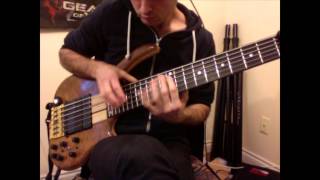 <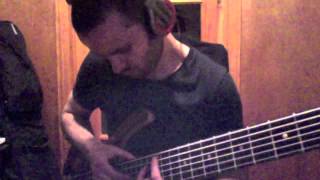 <
<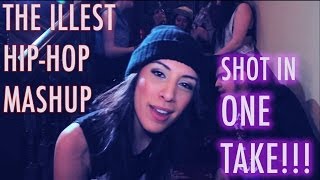 <
More on the web
Grab a 4-pack of custom No Treble coasters. Each coaster is printed in full color on thick, premium coaster board and cut precisely into a 3.7" circle. Buy Now.