Profiles in Tone: Jack Casady
Jack Casady has one of the most distinct tones in rock and roll, and it's not by accident. The Hot Tuna/ex-Jefferson Airplane bassist has always been very detail oriented when it comes to getting his sound right.
"I think tone is essential," he shared with us in our 2012 interview with him. "I think tone is your signature as to who you are. Before you get to the notes, and your style and the kind of riffs you like to do or your influences, I think you have to develop and pay attention to the way you make the tone on your instrument and what pleases you. The music builds around the tone. It isn't just a series of notes or the articulation or the technique. The signature sound of a great musician is his tone and that sets him apart from others, and I think that is essential. That's the beginning place to start from."
Casady has always been one to tinker with his equipment. His earliest recordings, including his playing on Jimi Hendrix's "Voodoo Chile," were on a Fender Jazz bass. But he's better known for heavily modding his Guild Starfire basses and the experimental Alembic Number One. Currently, he uses his signature Epiphone bass, which he designed with the company.
"It's based off the Les Paul bass that was put out in the early '70s. I found one but that the pickups were a bit shy. They were ok by themselves or in an acoustic format, but with a band, particularly a band with a keyboard, you tend to lose the low end. I approached Gibson about remanufacturing this bass with a special pickup that I wanted to build. They referred me to their other company, Epiphone, and they went for it. We spent about a year and a half developing it. It's an alnico magnet pickup that I designed. I boosted the magnetic power on it like I used to do with my basses like the Guild ones that were modified. I brought more power out of the pickup because it's a low impedence bass. Low impedance has a more full, high fidelity tone and larger range, however it didn't have the power that a high impedance pickup has. So I used really heavy gauge windings and that brought the thickness up to the sound. Then we placed it on the sweet spot."
Casady has two different rigs that revolve around playing in Hot Tuna. For electric sets, he uses an Aguilar DB 680 preamp matched with Aguilar's DB 728 power amp which feed into an Aguilar GS 410 cabinet. That setup is too big for Acoustic Hot Tuna, so for the more intimate setting, he employs a George Allesandro 30-watt Basset Hound head and his signature Aguilar DB 285 JC cabinet. The cab is fitted with two 8″ speakers and a 6″ driver.
"The warmth of the George Allesandro amp with the small speakers that I developed with Dave Boonshoft of Aguilar really are just a perfect compliment to an acoustic guitar," Casady says. "I've worked on that kind of sound for years and years and years to develop a bass sound that works well with a light finger picking approach to acoustic guitar that [Hot Tuna guitarist Jorma Kaukonen] has."
A key ingredient to getting the grit into his tone is a piece of gear he's had for nearly fifty years: a Versatone amplifier.
"Occasionally I'll use a Versatone amplifier, which is a little 30 watt amplifier that I used all through the '60s on the early Jefferson Airplane and Hot Tuna stuff, and I'll bleed it in through the sound system when I wanna get a little growl," he explains. "It was made and developed by Bob Hall. It's a 30-watt amp, but it bi-amps, so two 7591's go to low and two go to the high. Then it could go mono to a single speaker. It just gets a sweet sound. I recorded my first Hot Tuna album with that in 1970. If you turn it to about 10 o'clock, you just get this warm, sweet sound. But if you turn it up to about 12 o'clock, it would start to distort, but it would distort on even harmonics and get a good sweet sound with my f-hole Guild at the time. Now I do the same with my full scale Epiphone."
Even with all of Jack Casady's interest in gear and experimentation, much of the tone comes down to his technique. Jack keeps his right hand floating and in a relaxed position. His attack varies greatly, but for that bigger growling tone he strikes the string close to or over the end of the fretboard. He also uses the whole length of his finger when plucking, sometimes plucking with two or three fingers to get an even greater attack. His left hand generally sticks around between the third and ninth frets, employing thicker tones to fill the bottom end. That's not to say he doesn't use the full range of the bass during solos or accents. Check out "Mann's Fate" to hear Jack use the upper register to act as the seventh string on Jorma's guitar.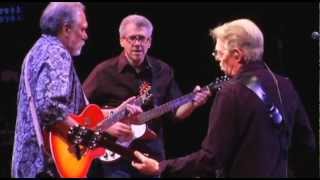 <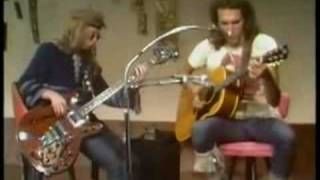 <