Mesa Engineering Introduces Subway Bass Series
Mesa Engineering has gotten into the world of lightweight amplifiers with their new Subway Bass Series. The lineup includes the company's first ultra-lightweight Class D amplifier and a pair of bass cabinets loaded with neodymium speakers.
Heading up the series is the Subway D-800, an 800-watt amplifier that weighs in at five and a half pounds. Mesa says the amp is built around a combination of signature circuits including the Bass 400+, the Bass Strategy 8:88, the Big Block 750, and the M9 Carbine for a unique voice that sits among its lineage. Its input section starts with a mute switch, an active/passive switch, and a Deep switch for enhancing the low end. It has a 4-band fixed, rotary EQ section with Bass, Low Mid, High Mid, and Treble controls. The mid-frequency bands overlap for "pinpoint accuracy when sculpting the important attack region and body of your tone." Further, the Voice control is a variable that allows for more general sculpting from a "flat" response to a radically scooped midrange sound.
The back panel of the D-800 has Speakon outputs as well as an impedance switch for toggling between 4 ohm and 2 ohm operation. Other features include a headphone output, an auxiliary input, and a Direct Output with pre/post EQ, mic/line level, and ground switches. It ships with an included gig bag and strap.
The series is rounded out with the Subway Ultra-Lite 1×15 and Subway Ultra-Lite 1×12 bass cabinets. Each is loaded with a neodymium speaker and a high frequency horn that has its own attenuator. The cabs are built using Mesa's Tri-Port Porting with aviation style bracing, which the company says offers better strength and reduced weight thanks to lightweight Italian poplar. The 1×15 weighs 37.9 pounds while the 1×12 weighs 35.5 pounds.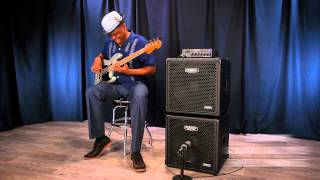 <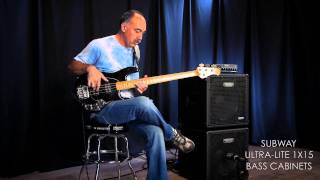 <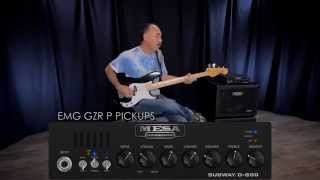 <
The Mesa Subway Series is expected to ship in October. The Subway D-800 carries a street price of $699, while the Subway Ultra-Lite 1×15 and 1×12 Bass Cabinets go for $749 and $649, respectively.
MESA/Boogie Subway D-800 Bass Amp Features:
Designed & Handcrafted in Petaluma, California
Class D Power with 8/4 or 2 Ohm Impedance Switch for
optimum Power to Load Performance
5.5 Pounds – 800 Watts @ 4 or 2 Ohms (400 @ 8)
Active/Passive Input Switch
Play/Mute Switch
Preamp features: Input Gain with Clip Indicator (O/D
LED), Variable Voicing (Flat to Vintage Scoop), Active 4-
Band EQ (+/- 12dB of Bass, Low-Mid, High-Mid, Treble),
Deep Switch (for enhanced low-end) & Master Volume
Balanced XLR DI w/Pre/Post, Line/Mic & Ground Lift
Headphone Output
Auxiliary Input
Protection & Limit LED Indicators
2 Speakon Speaker Output Jacks
Fan Cooled
Gig Bag w/Strap
MESA/Boogie Subway Ultra-Lite 1×15 Bass Cabinet Features:
Designed & Handcrafted in Petaluma, California
Tuned Front Ported Tri-Port Porting w/Aviation style bracing (superior strength/reduced weight)
Lightweight Italian Poplar Cabinets – Legendary Mesa Quality Construction
Custom Subway Neodymium Speakers & High Frequency Horn w/Premium Attenuator
Combination Speakon & 1?4″ Input and Parallel Output
Recessed, Flip-Out Metal Handles
Black Bronco Vinyl with Black Metal Grille
Lexan Corners
Slip Cover
37.9 lbs
MESA/Boogie Subway Ultra-Lite 1×12 Bass Cabinet Features:
Designed & Handcrafted in Petaluma, California
Tuned Front Ported Tri-Port Porting w/Aviation style bracing (superior strength/reduced weight)
Lightweight Italian Poplar Cabinets – Legendary Mesa Quality Construction
Custom Subway Neodymium Speakers & High Frequency Horn w/Premium Attenuator
Combination Speakon & 1?4″ Input and Parallel Output
Recessed, Flip-Out Metal Handles
Black Bronco Vinyl with Black Metal Grille
Lexan Corners
Slip Cover
35.5 lbs
For more information:
Mesa Engineering