Ampeg Introduces All-Tube Portaflex Bass Amps, 1×12 Cabinet
In 2011, Ampeg launched the Portaflex Amp Series featuring solid-state preamps inspired by their iconic B-15 amp. Now the company has expanded the line with the PF-20T and PF-50T, a pair of all-tube bass amps they describe as "modern interpretations of Ampeg's legendary low-wattage, all-tube designs."
Rated at 20 and 50 watts respectively, the PF-20T and PF-50T both feature a pair of 12AX7 tubes in their preamp. The PF-20T has a pair of 6V6 power amp tubes, while the 50-watt version has a 12AU7 matched with a pair of 6L6 tubes. Ampeg fits each amp with a user-adjustable bias control for easy tube replacement. Each model can be toggled between 4 or 8 ohm operation and has a transformer balanced line out with a ground lift. Besides the increased power, the PF-50T adds a preamp output and EQ flexibility with a 5-position mid-tone control and Ultra Hi/Lo boosts.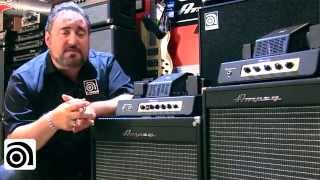 <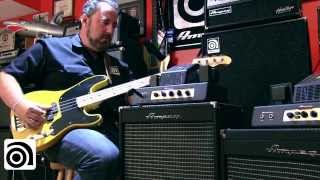 <
Ampeg also announced the PF-112HLF bass cabinet to the series. The new cab follows the lineup's aesthetic with black diamond tolex, a vintage B-15 grille cloth, and a 15mm poplar ply enclosure. It's rated at 200W RMS at 8 ohms thanks to a 12-inch Eminence LF driver and 1-inch HF compression driver. The tweeter as a pad level control.
Ampeg's new Portaflex models are available now. The PF-50T and PF-20T carry street prices of $899.99 and $599.99, while the PF-112HLF bass cabinet will go for $399.99.
Ampeg PF-50T Bass Amplifier Specs:
RMS power output:
50W @ 4 or 8 ohms
Preamp:
All-tube 2 x 12AX7
Power amp:
All-tube 1 x 12AU7, 2 x 6L6
Inputs:
0db and -15db
Tone controls:
Bass, Mid, Treble, 5-position Mid-Control, Ultra Hi/Lo boosts
Balanced Outputs:
Preamp balanced line out with Pre/Post EQ, Ground lift; Transformer balanced line out with Ground lift
Dimensions:
(H x W x D inches): 7.3 x 13.9 x 10.4 in
Weight:
19.4 lb / 8.8 kg
Ampeg PF-20T Bass Amplifier Specs:
RMS power output:
20W @ 4 or 8 ohms
Preamp:
All-tube 2 x 12AX7
Power amp:
All-tube 2 x 6V6
Tone controls:
Bass, Mid, Treble
Balanced Outputs:
Transformer balanced line out with Pre/Post EQ, Ground lift
Dimensions:
(H x W x D inches): 7.3 x 13.0 x 10.4 in
Weight:
15.2 lb / 6.9 kg
Ampeg PF-112HLF Bass Cabinet Specs:
Cabinet Design:
Vintage Portaflex, Black diamond tolex with vintage B-15 grille cloth
Enclosure:
Rugged 15mm poplar ply enclosure
RMS power output:
200W RMS power handling @ 8 ohms
Driver:
1 x 12″ ceramic Eminence® LF driver with 1″ HF compression driver w/L-Pad level control
Frequency response:
41 Hz – 14 kHz
Sensitivity:
96 dB SPL @ 1W/1m
Dimensions:
(H x W x D inches): 19.8 x 17.1 x 13.1 in (503 x 434 x 333 mm)
Handling weight:
30.8 lb / 14.0 kg
For more information:
Ampeg