Custom Shop: Tuli Basses
Every instrument of distinction starts with a vision, but passion and commitment are the factors that make it a reality. That perfect storm has come together with Finland's Tuli Basses, a fresh boutique bass company aimed at quality over quantity.
The man with the vision is luthier Aron Bach. A lifelong bassist, the American-born bass builder cut his teeth as a carpenter in California but moved to Germany to study and hone his craft. Further travel brought him to Finland, where he's found his calling. Finland seems to be a boon for the builder's creative spirit. His deep respect for the land, the culture, and the people are evident in his manner, and he uses special local woods to create his jaw-droppingly beautiful basses.
Bach's aim is to create master instruments to stand the test of time, and so far it looks like it's working. The combination of stunning looks and playability have been garnering praise from some of Europe's top bassists.
We caught up with the luthier to get the scoop on his background, designs, and philosophy.
What brought you to Finland?
I had lived in Europe for a long time, and you meet people. I had been to Finland for vacation many times. I really like it here. I meet people on a regular basis that are geniuses. Nobody really thinks that much of themselves here, but I'm constantly shocked by the level of intellect and skill here. I'm honored to be here; it inspires me. I feel like people try to better each other here.
More important than my origin is the philosophy behind [the company]. The idea was, "What would the ultimate bass look like?" If I was to build my version of the ultimate bass guitar that inspires me to no end, that's not determined on the whims and wishes of anyone else, what would that bass look like? That was the foundation of TULI basses. It was me coming to the realization that I'm not a tradesperson or carpenter, but at the end of the day, I'm an artist. Since I made that decision, I can't believe how much better I feel as a person.
Tuli is the Finnish word for fire. The wood that we use is this very, very rare form of birch that grows here in Finland. When I was purchasing the wood for that very first bass, I met a guy that has a stash of proportions that you can't begin to fathom. Nobody buys it here anymore because it doesn't fit with Scandinavian design, but there's the old school that used to treat it as a treasured resource. One piece big enough for a bass's top would be around 200 Euro, if you're lucky to even find it that big. This guy sold me enough to build between 60 and 200 basses, depending on how I use it. He sold it to me for the price of firewood, essentially. I said, "I've only got this much money," and I'd ask him to cut me pieces off of larger ones, but he'd just let me take the whole piece. He eventually asked me, "What do you want?" I said, "I'd like to be able to stock myself to build instruments. I'm starting a company and I'm a big supporter of Finnish resources." And he helped me out a lot. I asked why he would help me so much, and he said, "Because it's good for Finland. I believe you'll do something good for it."
Birch is different than the rest of these instrument woods. At the end of the day, it really is the perfect wood. Because of how it grows here in the cold, it creates a tonality that in middle Europe – because of the climate – is just not possible. It has to do with cell density and moisture in the wood and how long the wood is thawed for… all those sorts of things. But then Finland invented this thermal treatment process called vacuum heat treatment that when applied to the right piece of birch, it actually has a very similar cellular structure when under a microscope to a 150-year-old violin from southern Germany. That sweet sound you get from a Stradivarius, you get that because the wood is so old and well seasoned. The Finns have figured out a way to cause birch to be like that within about 72 hours.
What are the main features of the Tuli bass that make it the ultimate bass to you?
We'll start at the top with playability with the necks, the size of the body, and the way it feels. I didn't want it to seem obtuse or uncomfortable or out of balance in any way. When somebody looks at the instrument, I don't want people to say, "Oh, that looks a little awkward." There's a picture that's in my head of an instrument that perfectly suits me. That's not something that I can say, "According to this research," or "After this design and this design…" Sure, you can make comparisons, but it's really just something in my head that I'm trying to make a reality. As I've done that and made those things, I'm personally satisfied with that. Now I'm going to take it to the next instrument with the next level and keep improving on it. Yes, I want to make an instrument that's of extremely high value, but I don't ever want somebody to say, "Oh, that's a collector's instrument. Nobody would ever play that."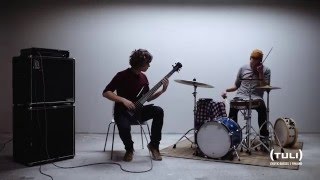 <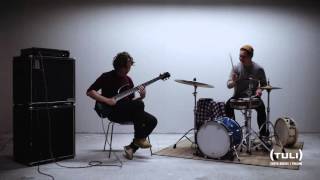 <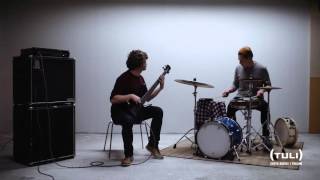 <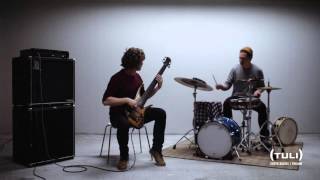 <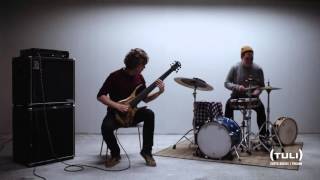 <
So everything is done by hand, is that right?
Yes. If I posted a video showing the world how cool it is that a machine is cutting out 100% of the body, then a couple things have happened. My greatest satisfaction as an artist comes from shaping bodies by hand. It's zen. If I've [used CNC machines], I've already circumvented part of the artistry that I'm trying to offer in the first place. That's one reason why it would be a failure for me. I would be trying to cause business to go further by making personal artistic compromises, which is not the point of what I'm doing. Also, from a practical standpoint, how many instrument builders are there in the world that sculpt their bodies? Not a lot. There are people that don't even see why that might be cool. When you pick up a Carl Thompson bass and you see that he's spent some time carving on that thing, and you see the form and you see the continuity, you see he's a sculptor.
You've got a pretty specific idea of what your basses will be, so what kind of options will you offer?
That's a great question. We'll start with wood. It's going to be the case that 85% of the instruments will be constructed from woods from Finland. I don't have a need really to get other woods. If a nice piece of something falls in my lap, sure I'll build out of it. But really what inspires me is my top plates are going to be a very exotic book-matched piece of Masur Birch; spalted, ribboned, figured, stained, or otherwise. Birch has such an untold variety. People look at instruments and say, "That whole thing is birch?" We're used to it with maple, but birch is still the same way. The tonewood in the back is going to almost always be flamed birch, which is the equivalent of flamed maple, but thermo-treated so that it has the density of the maple you'd find in a 150-year-old violin. It's such an amazing tonal combination.
Again, if an awesome piece of koa or something falls in my lap, I'll use it, but some things I won't make exceptions on. For fingerboards, I need ebony. That's not something I'm willing to compromise on. For the tone I'm looking for – bright, warm, with crazy sustain – ebony is extremely important. I'm not a fan of rosewoods.
The woods I'm using are primarily from Finland and primarily from this resource that I was entrusted with. Part of this is me doing justice by having it entrusted to me. This wood is not normally able to be cut down. It was pushed down by a storm on private property. Even after the storm knocks it over, it's years before the landowners will let someone haul it off. It's an incredible resource that I've been given, and once I've done justice to that we'll move on and see what else is going on.
I think this is a good conversation just for sustainability in general. It's ok to use natural resources, but don't go at it like it will happen forever. I think it's healthy to say, "This may not not last forever." That's another dynamic I have to put out there about this wood. In five years, there might not be any more of it around, but I'm going to do my absolute best and I'm going to showcase it in the absolute best way possible.
How about for hardware and electronics?
I make my own hardware from titanium. Eventually every part on TULI Basses will be from either grade 2 Titanium or hand-forged Damascus steel from an artisan smith in Arctic Lapland.
Going back to the philosophy, I want to get the next generation excited about the ultimate custom bass. This generation plays rock. Most of us are not Bill Dickens or Victor Wooten. But when I saw my first Carl Thompson bass and my first Ken Lawrence bass in the 1995 buyers guide, it did something to me that's never left me. What I'm wanting to awaken with the woods and the electronics is that type of respect for woods and craftsmanship that is prevalent in classical instruments, what if that was the case with our generation today and bass guitars? I want that young kid rock musician to have a Stradivarius and to be excited about a Stradivarius.
I'm also working on the other side of the spectrum and making a very boutique bass with my fretless six-string. I'm working with a German engineer named Andreas Richter. We've developed our own Tuli preamp. It has a three-way capability. We have a processor inside that facilitates the mixing of two magnetic pickups, an AKG violin microphone in the chamber, and then all the individual titanium solo rails have their own piezo saddle. That's really never been done before to that level where there's one package of electronics that mixes a full on microphone, two magnetic soapbar pickups (I'm using the Neo Blades from Nordstrand), and solo rail piezo pickups. It's all seamlessly mixed. There are eight knobs: four for the magnetics and four for the acoustics. You're able to make any sound you want with it. The mic makes it sound exactly like an upright bass.
The bass spectrum is broad. It has many frequencies, yet people will install electronics that are able to only capture a snippet of that spectrum and then retort "less is more." I'd say, no, less is less. More is more. I want to give people not just more, but I want to give them everything I can. I'm pushing the boundaries, and I'm not going to let some arbitrary dogma overtake my artistic endeavors. I don't think it should hold anyone back.