Bass of the Week: Emerald Guitars Balor Bass
This week we're checking out the Emerald Guitars Balor, an acoustic bass guitar built entirely with carbon fiber. The model is the latest in the evolution of their acoustic bass models.
"Physics implies that an acoustic bass should be large to properly create low frequencies at a useable acoustic volume," the company writes. "So we have developed a completely new ergonomic shape that is 30 per cent larger than our previous model, yet feels more comfortable to play. Finally, we have created an acoustic bass with gut-rumbling low frequencies produced at a volume loud enough to compete in any acoustic jam session."
The bass's neck, body, top, bridge and fretboard are all formed at the same time using a unique molding system. Emerald says the process makes it so there are no joins that can fail, which also helps to improve resonance and response. It comes in two versions: Opus and Artisan. Opus models serve as the basic variation while Artisan models are hand-built to order with various color options and exotic wood tops. The higher end model also comes with a transducer pickup as standard where it is an upgrade for the Opus.
Each bass weighs around six pounds. Other features include Gotoh Res-O-Lite tuners, A Graphtech nut, and Graphtech bridge pins.
Check out the Balor in action in these demo clips: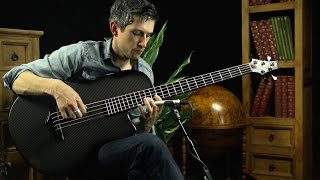 <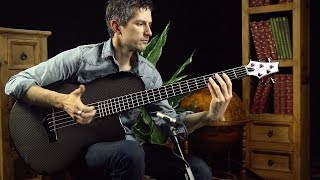 <
Emerald Guitars Balor Bass Specs:
Scale length:
34″
Body:
Carbon Fiber
Top:
Choice of Exotic Wood (Artisan Version Only)
Neck:
Carbon Fiber
Fretboard:
Carbon Fiber
Nut Width:
1 7/8″
Bridge Spacing:
70mm
Overall Length:
48 13/16″
Max Body Width:
18 1/8″
Max Body Depth:
6 11/16″
Max Body Length:
25 3/16″
Weight:
6 lbs
Frets:
24 medium stainless steel frets
Tuners:
Gotoh Res-O-Lite GB350 Bass Machine Heads 20:1 ratio (cosmo black)
Nut/Saddle:
Graphtech low friction nut and saddle
Bridge:
Graphtech bridge pins with Paua shell inlay
Pickup:
Undersaddle Transducer (Pickup included on Artisan Model)
Finish:
High gloss finish on all surfaces
Case:
Custom-padded Emerald gig bag