Bass of the Week: Nordic Guitars Rotator
The Rotator from Nordic Guitars is unlike anything you've seen. At first glance, the double-necked instrument seems upside down, but that's where its name comes in. The Rotator's fretted and fretless necks point in opposite directions and can be rotated to quickly change styles.
"[The necks are] fixed together in each end with 1 piece of milled out brass, which contains both a nut, 3D-bridge, tuning system, string fixing, potentiometers, electronics, compartment for a 9 v battery, plus nuts for adjustment of 2 truss rods in each neck," Nordic explains. "The necks are also fastened to each other exactly in the middle, with a pivot system connected to the back part. Incorporated in the pivot system there is a stereo transmission of the signals from the pickups and the electronics at each end of the front part – to 2 mono jack sockets in the back part, in which you plug cables to an amp."
This is great for switching between fretted and fretless, but you can also get creative by playing them simultaneously. Check out Nordic's Bjørn Rønnow explaining and demoing the Rotator: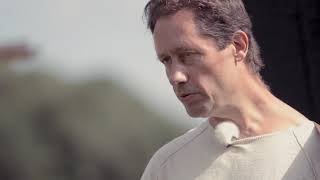 <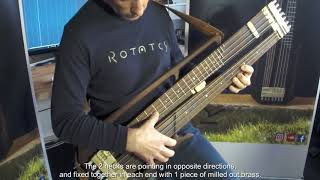 <
You can find more about the Rotator on the Nordic Guitars website.
Nordic Guitars Rotator Bass Features:
Scale:
32″
Body:
Radiate
Necks:
Fretted, Fretless
Neck Wood:
1-piece European Maple
Frets:
22 with Zero Fret
Pickup:
Mørch Singlecoils
Bridge:
Brass
Tuners:
Headless Tuning System
Due to popular demand, we've extended our 20% off sale, on everything in our shop. Your support helps keep No Treble running (and makes you look cool too!) Grab Some Swag.