Bass of the Week: XTRM Basses "The Bass of Navarone"
This week we're checking out a total monster of a bass built by Dimitris Matkaris, who says he likes to build "weird" basses to test his building skills. This instrument, which he dubbed The Bass of Navarone, has a multi-scale neck with a behemoth 47-inch scale B-string. For comparison, that's 13 inches longer than a standard bass scale.
"Electric guitars are 25.5″ scale length. If we make them 5 frets longer, we get 34″ scale length, like the most basses out there," Matkaris explains. "If we make a bass guitar 5 frets longer, it becomes 45.38″ scale length. It has to be multiscale. So, the A string will be 45.5″ scale and the B 47″ scale and G 44″ scale. But, I will not be able to reach the tuners to tune it. It has to be headless. Challenge accepted."
The builder reached out to the UK's Newton Strings to custom build the strings, which have gauges ranging from .110 to .33. This gives them 52 pounds of tension when tuned to standard BEADG. "Longer scale needs thinner strings with bigger tension. Even with 52 LBS tension, they are very light and easy to play," he says. "Thinner strings are more flexible with bigger harmonic content, clearer fundamental and the sound is full, with overtones and has a bigger definition."
Check out some sound samples of the Bass of Navarone: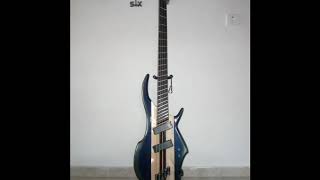 <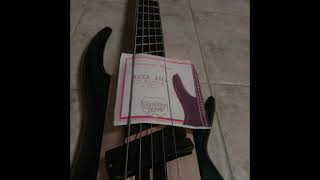 <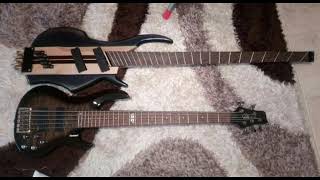 <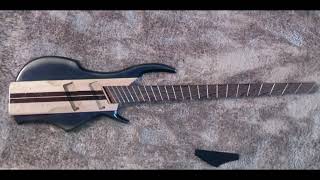 <
XTRM Basses The Bass of Navarone Specs:
Scale:
47?-44?
Body:
Laminated Pine Wood
Neck:
5-piece Laminated Wenge/Maple with Carbon Reinforcement
Fretboard:
3-Piece Laminated Wenge/Maple
Pickups:
6-string Humbuckers
Electronics:
Passive with Series/Parallel Switch
Tuners:
XTRM Custom
Headpiece:
XTRM Custom
For 12+ years, we've worked hard to support and promote the global bass playing community. Now, we're asking readers for help. Your donations will be used to cover No Treble's ongoing expenses, and all donations come with a reward. Learn more.