Bass of the Week: Jillard Guitars Armada Bass
This week we're checking out a stunning Armada bass by Jillard Guitars. Built in Ontario, the bass has a multi-scale neck running from 36.75 inches to 34 inches with slanted frets to adjust for each string. Its chambered, white ash body is topped with spalted and quilted maple finished in a gorgeous blue that pops against the ash. Its neck is a seven-piece laminate of ash and wenge. The fingerboard is also wenge features scalloping on its highest frets for extra speed and control.
The grain-matched stacked single pickups have controls that are recessed into the side of the bass. Other features include Hipshot Ultralight tuners, stainless steel frets, and a soundhole.
Hear the bass in these demos by Nimal Agalawatte: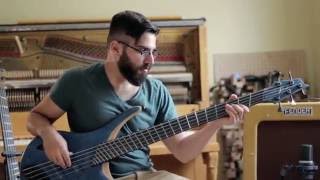 <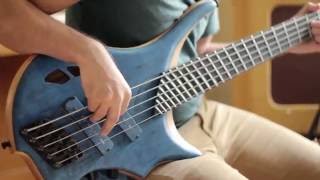 <
Jillard Guitars Armada Bass Specs:
Strings:
5
Scale:
36.75″-34″
Body:
Chambered Ash
Top:
Spalted/Quilted Maple
Neck:
Wenge/Ash
Fingerboard:
Wenge
Fretboard Radius:
20″
Frets:
Stainless Steel
Pickups:
Stacked Singles
Tuners:
Hipshot Ultralight
Hardware:
Black
Grab a 4-pack of custom No Treble coasters. Each coaster is printed in full color on thick, premium coaster board and cut precisely into a 3.7" circle. Buy Now.