New School: Zander Zon
Zander Zon, who takes his name from the famed line of boutique bass guitars, follows the vein of solo bass. Employing piccolo strings and alternate tunings, the bassist builds thoughtful and challenging compositions as well as cool arrangements of popular tunes that have captured the imagination of YouTubers.
What makes you new school?
My focus as a musician is to create unaccompanied compositions and arrangements for solo bass performance. I use piccolo strings, which are very light gauge (020 – 052) with a huge pitch range, and how I tune my bass depends on the piece of music I'm playing. I do this because different altered tunings each have their own unique possibilities when it comes to chord voicings and harmonics. Also, I built my fan base on the Internet by releasing home made videos of my music on YouTube.
How did you discover your new school style?
Michael Manring's approach to the instrument was a huge influence on me, as was Victor Wooten's. The way that they push the boundaries of what's possible on the bass is extremely inspirational. I vividly remember the first time I heard Manring's "Selene" and Victor's "Classical Thump". I was in awe! Then I saw a video from Bass Day '98 in New York, and they did these amazing arrangements of popular tunes. I remember thinking that their techniques were incredible, but what was most impressive was their musicality.
What are some of your favorite videos among those you've featured?
My three focuses are compositions, arrangements of popular songs, and classical arrangements, so I've included one video for each of these areas.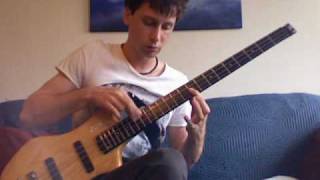 <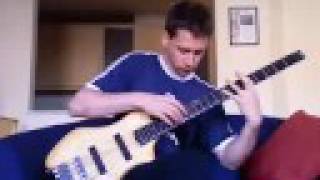 <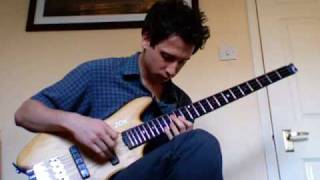 <
What kind of gear do you use?
My bass is a VB4 from Zon Guitars. It's a headless bass, which a lot of people find interesting; but more importantly, it sounds incredible and is a really sleek and lightweight. I use a Fishman Solo Amp, which works extremely well for my style. It's actually a PA and an amp and has six custom speakers along with a tweeter. It stands on a tripod and it's very easy to transport as it folds up and can be wheeled around. For effects, I use a Boss GT10. It has pretty much everything, including a looper.
What kind of gigs do you get with your new school style?
I've played different types of gigs, from pubs and clubs to house concerts and weddings. The sorts of venues that I've found work well for me are singer-songwriter venues.
Do you have albums where we can hear your new school style?
Yes, last year I released my debut album, Sonorous. It contains ten solo bass compositions, all performed on my VB4. You can check out the album on iTunes, Facebook or CD Baby. I've uploaded video performances of all the pieces on YouTube as well.
Where can we find you on the web?
I've actually just created my own website, which hopefully will be informative and helpful. I'm also active on Facebook and YouTube.
What's next for you?
I'm working on new compositions for my second album, as well as some new arrangements. With my first album, I really wanted it to be about just the one instrument. Now I want to move forward from that and I'm planning on using several instruments for the new one. I have a lot of work to do!
What else do you want to share?
Bassline Publishing has just released the Sonorous transcription book. It contains tabs for all of the compositions on my first album, as well as detailed notes, interviews and information on bass set-up. There's also information on how to play the pieces using regular strings which are available from the Bassline Publishing website. The book is extremely detailed and thorough, and I'm really proud of how it turned out!