Jackson Ampworks Introduces The Behemoth Bass Amp
Jackson Ampworks unveiled four new amps at NAMM this year including The Behemoth, a 120-watt all-tube bass amp. Sporting dual channels, the company describes the new amp as a marriage of a B-15N and an SVT, with Channel 1 designated as the Vintage Channel while Channel 2 is the Modern Channel. As such, Channel 1 is based on the 8-pin 6SL7 preamp tube and Channel 2 is based on the 9-pin 12AX7 preamp tube.
The Behemoth has two inputs labeled "1/2" and "2". "1/2" sends the bass to each channel equally, allowing for blending of the two channels. Plugging into "2" breaks the connection and makes each channel function independently. Each channel has Gain, Volume, Treble, Bass controls as well as Ultra-Hi, Mid Boost, and Ultra-Lo switches for tonal shaping. While there is no Mid control knob, Jackson Ampworks explains mid frequencies can be adjusted by rotating the Treble and Bass knobs in tandem.
The power output on the Behemoth is switchable, from 30W Class A/B using two 6L6 tubes, 60W Class A/B using four 6L6's or 120W Class A/B using four 6L6's. Besides catering to different volume situations, the three settings give different tones as the 120-watt mode gives clean headroom while the 60-watt and 30-watt modes offer early breakup and harmonic richness.
The Jackson Ampworks Behemoth is available now for $2,850. For more, visit the Jackson Ampworks website.
Jackson Ampworks Behemoth Bass Amp Demos: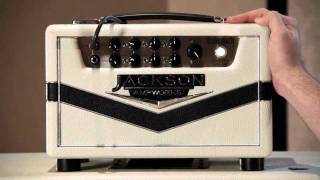 <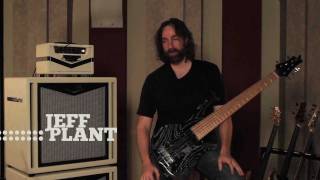 <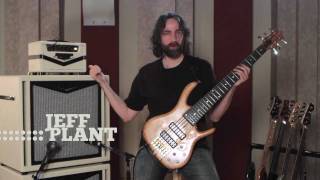 <
Jackson Ampworks Behemoth Bass Amp Specs:
Channel 1 Controls: Gain (Input Pad), Volume, Treble, Bass, Ultra-Hi Switch, Mid Boost Switch, Ultra-Lo Switch
Channel 2 Controls: Gain (Input Pad), Volume, Treble, Bass, Ultra-Hi Switch, Mid Boost Switch, Ultra-Lo Switch
Shared Input Jacks for Channel Blending Master Volume
(2) – 6SL7 Preamp Tubes
(1) – 12AX7 Preamp Tube
Fully Regulated DC Heaters for Preamp Tubes
Fully Isolated Preamp Tubes Mounts
(4) – 6L6 Output Tubes Genuine Carling Switches
3 Power Modes (30/60/120W)
4/8 Ohm Impedance Selector Switch
Switchable 120V/240V Operation
Custom Wound Power and Output Transformers
Carbon Film Resistors
Handwired Turret Board Construction
13 Ply Baltic Birch Cabinet with Dovetail Joints
Anodized Aluminum Chassis
Laser Engraved Stainless Steel Panels
Genuine Neutrik Jacks
Line Out with Line Out Level (tapped off speaker jack)
External Bias Test Points and Locking Bias Trimmer
Silver Coated Teflon Wire
Mallory 150 and Sprague Orange Drop Caps
80mm Cooling Fan