New School: Armin Metz
Armin Metz really caught some attention when we posted the video for his solo bass composition "Sanskar Valley" (see below).
As bassist for Imogen Heap, Metz has done his share of playing stages as a sideman, but the spotlight has been moving to him with his expansion into the realm of solo bass.
How did you discover your new school style?
When I started to play bass, I had the feeling that this is an instrument with lots of possibilities that are not yet explored. Besides the beautiful job of playing the powerful, basic notes of a song, there are many ways to make a bass sound in different colors.
I played piano a lot before, so tapping was quite [familiar] on the bass. The song "Aerial Boundaries" by guitarist Michael Hedges inspired me a lot… I saw the video on TV and later only had the record, so I tried to find out how he played it and figured out a certain tapping technique. In the end I realized he did it in another way.
Some musicians inspire me to new things, like Kai Eckhardt. His chord slapping blew me away. I think the styles we create with an instrument are also influenced by the way we look at them, we could see a bass just as the part of a tree with some metal on it. Sometimes that helps me to step beyond my own conditionings of what a bass should do or not do. Another tool that opens up a whole sonic world for itself is triggering sounds with the bass. Recently I programmed some patches on a program called Bidule that manages bass synthesizing with nearly no latency.
Share some of your videos which show off your new school thing.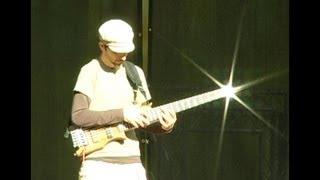 <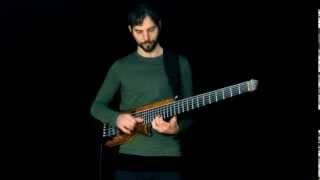 <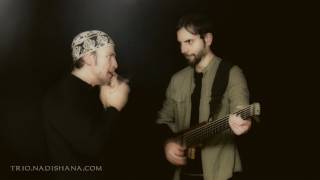 <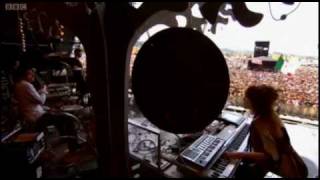 <
What kind of gear do you use?
I use a Neuser "Cliffhanger" 6-string fretted with Delano pickups, sometimes with an additional hexaphonic Roland GK-3 B. I also have a Fender Jazz '77 and a Magnus 6-string fretless with Delano pickups. In most of the gigs I go to DI (&through my laptop with RME Fireface), in some I use my EBS Drome. My strings are by Elixir.
What kind of gigs do you get with your new school style?
If you mean the more exotic techniques then it's world music gigs and solo. I use a lot of it in the Nadishana Trio, we play in world music/jazz festivals as well as clubs. I was on a US/Europe tour with Imogen Heap in 2010, and she loved some of the synth bass sounds.
Any traditional playing gigs?
From time to time. I like so many different styles of music and I do small touring or gigs when it feels right, then jumping in and out quickly, often it's just a short-term focus on a certain project.
Do you have albums where we can hear your new school style?
I'm still working on my album, "Basssongs." This is a really special album for me because I play nearly all instruments by myself, hope to have it finished in summer. The Nadishana Trio CD has some nice bass skills on it.
Where can we find you on the web?
What's next for you?
Working on my album, making some more videos, gigs with Nadishana Trio, preparing new things for solo gigs, composing, practicing, remixing, workshops, and yoga.
What else do you want to share?
I'm happy about the strong bass community, thanks for your contribution to it! There is more support than competition and I hope we can help each other to do what we really like. Often dishonest compromises pull us off track so let's stay focused on what really wants to come out of us.