Bass of the Week: Malinoski Rodeo Bass
Peter Malinoski is a luthier with an artistic vision for his instruments and passion for uniqueness. With several college degrees in the arts, it's no wonder his designs stand out.
"[My instruments] are a step back and beyond the roots of electric guitars that represent what electric guitars could have been and still can be when mass production and mass marketing are taken away," he shared on his website. "They are a nod to the hand-built techniques of a singular craftsman where all design and construction ideas are considered to create unique instruments that become something refreshing and new."
His Rodeo Bass is no exception. Each bass is made to order so materials vary, but common features include a 32? scale, 26 frets, a Hipshot bridge, Gotoh tuners, and a dual action truss rod with 2 carbon fiber struts for neck reinforcement.
Similar to his other instruments, the bass is built with its electronic components on a wooden plate that attaches to the front of the body rather than the back. Pickups include Malinoski's Type 1 as well as a passive piezo under the bridge.
Malinoski Rodeo Bass Videos: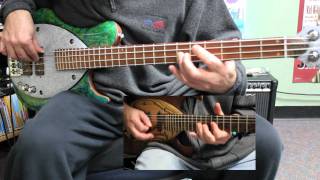 <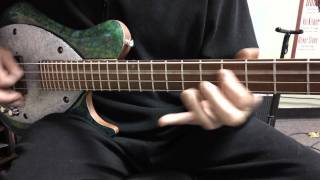 <
Malinoski Rodeo Bass Photo Gallery:
Malinoski Rodeo Bass Specs:
Body Woods: Optional
Neck Woods: Optional
Fretboard Woods: Optional
Scale: 32?
Frets: 26
Fretboard Radius: 12?
Neck Shape: Medium C
Nut: 1-5/8?
Truss Rod: Dual Action
Neck Reinforcement: 2 Carbon Fiber Struts
Pickups: Malinoski Type 1, Passive Piezo
Bridge: Hipshot SS
Tuners: Gotoh
For 12+ years, we've worked hard to support and promote the global bass playing community. Now, we're asking readers for help. Your donations will be used to cover No Treble's ongoing expenses, and all donations come with a reward. Learn more.