ValveTrain Amplification Announces Brandywine All-Tube Bass Amp
Amp company ValveTrain has announced the Brandywine amplifier, a 50-watt all-tube bass amp inspired by the bass amps for the early '60s. The amp is described as marrying vintage tone with modern features and was designed primarily for studio use.
Instead of a simple pad, the amp starts with a variable pad on the input that can be dialed in for varying levels with passive or active basses. Its EQ is a Baxandall active stack with a Middle control in addition to the traditional Bass and Treble knobs. Tone can be tweaked further with Ultra High and Ultra Low switches.
The Governor knob on the control panel limits the output volume of the amplifier. "When set to 1 there is no volume reduction," ValveTrain writes. "As the control is moved towards 10 the output level is reduced. The volume control can be used with the Governor to create preamp overdrive. The Governor originally appeared on the Sundown Amplifiers by Dennis Kager that were produced in the 1980?s."
Other features include a Tuner jack, a preamp output, variable level slave output, and selectable speaker outputs. The ValveTrain Brandywine Bass Amp is made and hand-wired in the USA. It will be available soon with a to-be-determined price point.
ValveTrain Brandywine Bass Tube Amplifier Demos: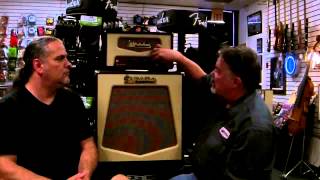 <
<
ValveTrain Brandywine Bass Tube Amplifier Specs:
All-tube Design
Variable Input Pad
Baxandall EQ
Tuner Pass-Through Jack
Preamp Output
Selectable Speaker Jacks
For more information:
ValveTrain Amplification