TC Electronic Releases BH550 and BH800 Bass Amps
TC Electronic has expanded their line of micro bass amplifier heads with the BH550 and BH800. In addition to increased power, the new amps step things up a notch with an expanded EQ section and dual switchable Toneprint effect locations.
The BH550 and BH800 start with built-in tuners that handle up to six strings. Their 4-band EQ sections have Bass, Lo-mid, Hi-mid, and Treble controls that each boost at one frequency and cut at a different frequency for tailored bass tone contouring.
TC's Toneprint technology allows for loading any of the company's effects into the amp's Toneprint slots. The effects, which range from an octaver to distortion, can be changed via USB or a free smartphone app. Both amps have two Toneprint controls with a toggle switch to choose them. Other common features include a mute switch, a balanced XLR output, an auxiliary input, a headphone output, and a pedal jack.
The BH550 is rated at 550 watts and carries a suggested price of $499, while the BH800 is rated at 800 watts and has a price of $599. Both units are shipping now.
TC Electronic BH550 and BH800 Demos: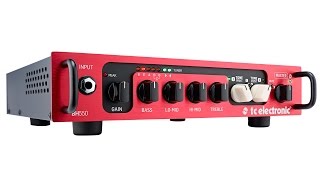 <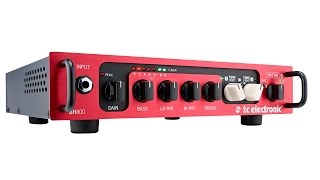 <
TC Electronic BH550 and BH800 Photos:
TC Electronic BH550 and BH800 Details:
Power: 550 Watts on BH550, 800 Watts on BH800
Built-in Tuner
4-band Intelligent EQ
Two Switchable Toneprint Slots
Balanced Output
Mute Switch
Aux In
USB Connectivity
Headphone Output
Optional Pedal Output
For more information:
TC Electronic