Ashdown Unveils Rootmaster EVO Series
Ashdown took to the Winter NAMM show this year to introduce the Rootmaster EVO Range. Building on the Rootmaster series, the EVO range has been streamlined with improved features and a reduction in weight.
The Rootmaster preamp now has active and passive inputs to get optimal levels for your bass. Other common features in the line include a 5-band EQ, an on-board compressor, a Shape button, a Drive control, a mute function, and a sub-harmonic control.
The series has two head units – the RM-800 EVO and the new RM-500 EVO – as well as three new 500-watt combos: the C115 500, the C210 500, and the C112 500. Each of the combos has been made from ply to cut down on weight by 26 pounds and feature the new Ashdown White Line speakers. Further, the combos can also power an extra 8 ohm extension cabinet. Rootmaster cabinets include the Compact 115T, the Compact 210T, the Compact 112T and the Compact 610T. The cabs also employ White Line speakers and have a three-way tweeter control. Bar handles aid tansport, with the Compact 610T adding casters.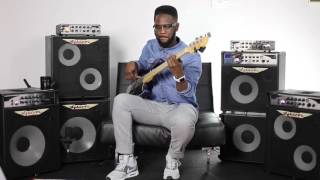 <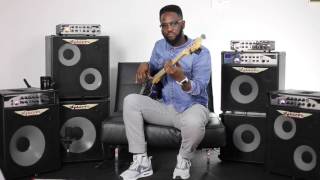 <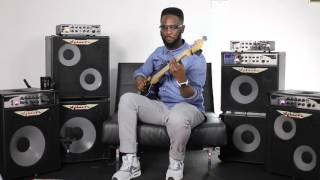 <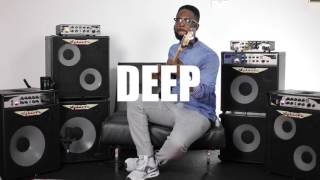 <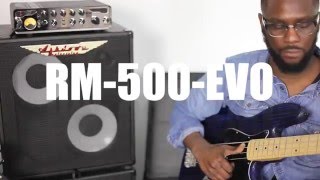 <
The Ashdown Rootmaster EVO Series is shipping this month.
RM-800-EVO Bass Head Specifications:
Power Output:
800 Watts
Power Handling:
115 – 230 Volts
Speaker Outputs:
2 x Speakon
Frequency Response:
-3dB at 17Hz and 30kHz
Inputs:
Active and Passive
Auxiliary:
Line Input
DI:
Balanced XLR Direct Output
Tuner:
Tuner Output
Impedance:
Minimum 4 Ohm
Signal to noise:
Better than 80dB (EQ flat)
EQ:
5-band, Sub-Harmonic Control,
Effects:
Compressor, Drive, Send/Return
Weight:
~9.9 lbs
Other:
Padded Gig Bag, Global Auto Voltage
Price:
$699.99
RM-500-EVO Bass Head Specifications:
Power Output:
500 Watts
Power Handling:
115 – 230 Volts
Speaker Outputs:
2 x Speakon
Inputs:
Active and Passive
Auxiliary:
Line Input
DI:
Balanced XLR Direct Output
Tuner:
Tuner Output
Impedance:
Minimum 4 Ohm
Signal to noise:
Better than 80dB (EQ flat)
EQ:
5-band, Sub-Harmonic Control
Effects:
Compressor, Drive, Send/Return
Weight:
~9.9 lbs
Price:
$499.99
RM-115T-500-EVO Bass Combo Features:
Power Output:
500 Watts
Configuration:
1x15″ Combo with Tweeter
Speakers:
Ashdown White Line
EQ:
5-band, Sub-Harmonic Control
Effects:
Compressor, Drive, Send/Return
Auxiliary:
Line Input
DI:
Balanced XLR Direct Output
Weight:
38.5 lbs
Price:
$729.99
RM-210T-500-EVO Bass Combo Features:
Power Output:
500 Watts
Configuration:
2x10″ Combo with Tweeter
Speakers:
Ashdown White Line
EQ:
5-band, Sub-Harmonic Control
Effects:
Compressor, Drive, Send/Return
Auxiliary:
Line Input
DI:
Balanced XLR Direct Output
Weight:
37.4 lbs
Price:
$729.99
RM-112T-500-EVO Bass Combo Features:
Power Output:
500 Watts
Configuration:
1x12″ Combo with Tweeter
Speakers:
Ashdown White Line
EQ:
5-band, Sub-Harmonic Control
Effects:
Compressor, Drive, Send/Return
Auxiliary:
Line Input
DI:
Balanced XLR Direct Output
Weight:
36.3 lbs
Price:
$649.99
RM-112T-EVO Bass Cabinet Features:
Power:
300 Watts
Configuration:
1 x 12″ With Tweeter
Speaker Outputs:
Jack or Speakon
Impedance:
8 ohm
Construction:
Premium Ply Compact Cabinet
Speakers:
Ashdown White Line
Weight:
22 lbs
Price:
$299.99
RM-115T-EVO Bass Cabinet Features:
Power:
300 Watts
Configuration:
1 x 15″ With Tweeter
Speaker Outputs:
Jack or Speakon
Impedance:
8 ohm
Construction:
Premium Ply Compact Cabinet
Speakers:
Ashdown White Line
Weight:
30.8 lbs
Price:
$299.99
RM-210T-EVO Bass Cabinet Features:
Power:
300 Watts
Configuration:
2 x 10″ With Tweeter
Speaker Outputs:
Jack or Speakon
Impedance:
8 ohm
Construction:
Premium Ply Compact Cabinet
Speakers:
Ashdown White Line
Weight:
34.1 lbs
Price:
$299.99
RM-610T-EVO Bass Cabinet Features:
Power:
900 Watts
Configuration:
6 x 10″ With Tweeter
Speaker Outputs:
Jack or Speakon x2
Impedance:
4 ohm
Construction:
Premium Ply Compact Cabinet
Speakers:
Ashdown White Line
Weight:
81.5 lbs
Price:
$649.99
For more information:
Ashdown