Gittler Instruments Unveils Bass Models at NAMM 2016
First introduced in the 1980s, the minimalist Gittler Guitar was reborn in 2013 thanks to musician and titanium expert Russ Rubman. This year Gittler Instruments has unveiled three new bass models, including four-string, five-string, and fretless versions.
"Similar to the six string Gittler Guitar, these basses are manufactured of aircraft grade titanium with an optional weapons grade finish and weigh in at 6 to 7.2 pounds," the company writes. "The revolutionary design includes LED fret marker lighting patented tuning machines, complete MIDI implementation, headless design, innovative pickup architecture, 31 frets and the ability for players to expand across a broader range of notes."
It has treble and bass controls with an internal mid-range control. It has two outputs: a 1/4-inch jack and a 13-pin output that can track MIDI into a DAW or MIDI synth pedal. The pickups are custom single coil pickups with one for each string, which tracks MIDI well. Its strap arm is adjustable with a stabilizer arm to get it into a comfortable position. While the design doesn't have a full neck, an acrylic neck guard can be attached to the back of the bass to achieve different neck profiles.
The Gittler Instruments basses are made in the USA. They're available for preorder with prices starting at $6,500.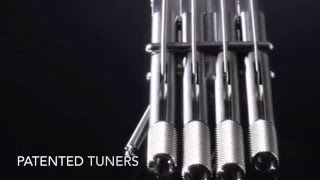 <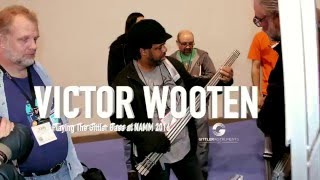 <
Gittler Instrumetns B4F 4-string Fretted Bass Guitar Specs:
Scale:
34″
Frets:
31
String spacing at nut:
0.412″ center-to-center
String spacing at bridge:
0.719″ center-to-center
Nut width:
1.736″
Weight:
6 lbs.
Material:
6Al-4V Grade 23 Titanium
Strings:
Standard ball end – long scale
Pickups:
4
Outputs:
1?4″ Female and D13 (MIDI)
Fret Markers:
LED "color choice"
Finish:
Titanium, AFSE, DLC
Gittler Instruments B5F 5-string Fretted Bass Specs:
Scale:
34″
Frets:
31
String spacing at nut:
0.378″ center-to-center
String spacing at bridge:
0.710″ center-to-center
Nut width:
1.912″
Weight:
6.8 lbs.
Material:
6Al-4V Grade 23 Titanium
Strings:
Standard ball end – long scale
Pickups:
5
Outputs:
1?4″ Female and D13 (MIDI)
Fret Markers:
LED "color choice"
Finish:
Titanium, AFSE, DLC
Gittler Instruments B4U 4-string Fretless Bass Specs:
Scale:
34″
Frets:
none
String spacing at nut:
0.395″ center-to-center
String spacing at bridge:
0.760″ center-to-center
Nut width:
2.074″
Weight:
7.2 lbs.
Material:
6AL-4V Grade 23 Titanium
Fret Markers:
LED "optional"
Finish:
Titanium, AFSE, DLC
For more information:
Gittler Instruments