Mesa Adds 2×10 Cabinet and DI/Preamp Pedal to Subway Series
In addition to introducing the Subway D-800+ bass amp, Mesa/Boogie has added to the Subway series with a 2×10 Ultra-Lite Cabinet and a Bass DI-Preamp. Both new products are made in Petaluma, California.
The Subway Ultra-Lite 2×10 joins the existing 1×12 and 1×15 cabs in the series. It features a pair of 10-inch custom neodymium speakers matched with a high-frequency horn with an attenuator.
The cab is built from lightweight Italian poplar featuring Mesa's Tuned Front Ported Tri-Port Porting design and aviation style bracing. Mesa rounds it out with recessed handles, black bronco vinyl, and a black metal grille.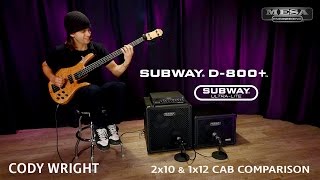 <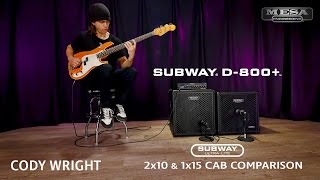 <
The Subway Bass DI-Preamp Pedal is based on the features and circuitry of the D-800 bass amp. It's features start with an input switch for active or passive basses. After the input gain, the pedal has a 4-band EQ including high and low mids as well as a voicing knob that varies from flat to vintage scoop. A deep switch enhances your low end.
For connectivity, the DI has a balanced XLR Direct Mic Level out with Pre/Post and Ground Lift Switches, Line Level Preamp outputs, and a thru output. The whole package weighs in at 1.26 pounds.
The Mesa Engineering Subway Ultra-Lite 2×10 Bass Cabinet and Bass DI-Preamp Pedal are available now with prices of $899 and $229, respectively.
Mesa Engineering Subway Ultra-Lite 2×10 Bass Cabinet Features:
Made in Petaluma, California
Tuned Front Ported Tri-Port Porting with Aviation style bracing
Lightweight Italian Poplar Cabinets
Custom SUBWAY Neodymium Speakers & High-Frequency Horn with Premium Attenuator
Combination Speakon & 1?4″ Input and Parallel Output
Recessed, Flip-Out Metal Handles
Black Bronco Vinyl with Black Metal Grille
Lexan Corners
Slip Cover
Mesa Engineering Subway Bass DI-Preamp Pedal Features:
Made in Petaluma, California
Active/Passive Input Switch
Preamplifier features: Input Gain, Variable Voicing (Flat to Vintage Scoop), Fully Active 4-Band EQ (+/- 12dB of Bass, Low-Mid, High-Mid, Treble) plus Deep Switch (for enhanced low-end) and Master Volume
Balanced XLR Direct Mic Level Out with Pre/Post & Ground Lift Switches
Line Level Preamp Outputs - Unbalanced & Balanced with Ground Lift Switch (drives any power amp)
Instrument-Thru Output
Powered by AC or Battery, auto-switches to battery if AC fails
Weight: 1.26 lbs
Dimensions: 2.51″ H x 6.875″ W x 5.27″ D