Mesa/Boogie Announces Switch-Track and Head-Track Pedals
Mesa/Boogie has expanded their product lineup with two new signal management devices: the Switch-Track and the Head-Track. Aimed at controlling dual amps, the Switch-Track allows for an "either-or-both ABY scenario," which the company says lets users switch between two different amps, two identical amps with different settings, or combining amps for a fuller sound. Its input is buffered to prevent signal loss, and both outputs are transformer isolated for consistent tone.
"Switching, including phase, can be triggered at the unit itself for pedal-board mounted applications or remote controlled via Midi program change (or control change) commands sent from a Midi Controller in scenarios that require a switcher location near the amplifiers or in a larger touring rack setup," Mesa writes.
The Head-Track expands on the Switch-Track by adding an effects loop switcher while also letting you use the same speaker cabinet and effects setup. "Our Head-Track was designed to be the most compact head-switcher available," product designer Mario Marino states. "Functionally, it supports two tube amps, two solid-state amps, or one of each and provides the ability to use and share time-based effects where they sound best, in the effects loops of the amps. At minimum, the Head-Track allows for an entire rig to be instantly switched between two amp heads for the ultimate backup scenario."
Check out the overview videos: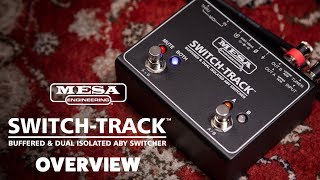 <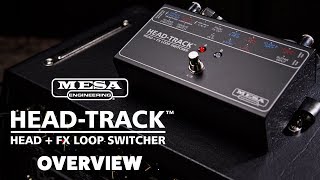 <
The Mesa/Boogie Switch-Track and Head-Track are available for pre-order for $299 and $399, respectively.