Neural DSP Announces the Quad Cortex Floor Modeler
Neural DSP has so far released several plugins for modeling software. The company, founded by Douglas Castro of Darkglass Electronics, has now unleashed its first piece of hardware. The Quad Cortex is a unit they call the "most powerful floor modeler on the planet." The unit has 2GHz of dedicated DSP from a quad-core SHARC and dual ARM architecture.
"For the past 2 years, the Neural team has been defying what we believed to be possible with not only audio algorithm development, but with mechanical, industrial and user experience design as well," Castro writes. "Quad Cortex is the most powerful floor modeler unit on the planet, but it's also delivered in an extremely compact format. Fitted with a 7" multi-touch screen, proprietary rotary footswitch controls, and enough processing power to run 4 rigs simultaneously, we've truly put everything we have into making the most flexible, intuitive, and powerful device on the market."
The Quad Cortex can capture, share, and download the sonic characteristics of any physical amplifier. It also has over 1,000 captured impulse responses to simulate cabinets as well as a parametric EQ controlled via the touch display. Check out Neural's release videos for more features: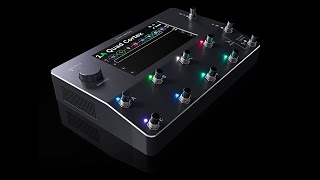 <
<
The Neural DSP Quad Cortex is available for pre-order and will start shipping in September, carrying a price point of $1,599.
Neural DSP Quad Cortex Floor Modeler Features:
2GHz Quad SHARC Core architecture
7″ screen with multi-touch sensors
Neural Capture
Desktop editor
11 Proprietary Stainless Steel Stomp+Rotary Actuators
WiFi & mobile app for preset sharing, updates, and backups
Anodized Aluminum Body
Dual Combo Inputs
Dual Effects Loops
Dual 1/4″ Outputs
Dual XLR Outputs
Headphone Output
MIDI In/Out/Thru
Dual Expression Inputs
USB Connectivity
Grab a 4-pack of custom No Treble coasters. Each coaster is printed in full color on thick, premium coaster board and cut precisely into a 3.7" circle. Buy Now.