Cort Launches Elrick NJS Bass Guitars
Luthier Rob Elrick and Cort Guitars have teamed up to release the Elrick NJS series, which celebrates the 30th anniversary of Elrick Basses. It also marks 20 years since Cort and Elrick first introduced the Elrick eVolution Bass.
The new line includes four and five-string models. NJS stands for "New Jazz Standard," and as such, the basses are J-style instruments with modern features like 24 frets with a zero fret, a "heel-less" body, and an angled headstock.
The electronics set features a pair of Voiced Tone VTB-ST single coil pickups that the company describes as offering "modern clarity, transparency, and vintage warmth, all while eliminating noise with their hum-canceling." The signal then runs into a Barolini Elrick NJS special preamp that's complete with a three-band EQ, two-way push/pull mid-select, and push/pull active bypass. Cort builds the NJS models with Hipshot tuners and a MetalCraft M bridge.
Hear more about the basses from Rob Elrick himself, then check out Daric Bennett putting the basses to the test.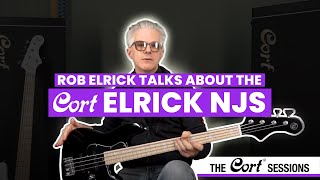 <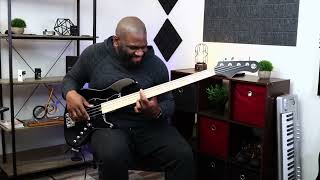 <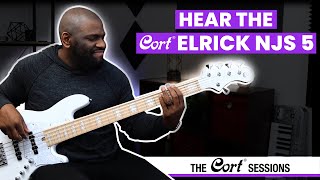 <
The Cort Elrick NJS Bass Guitars carry prices of $1,399 for the four-string and $1,499 for the five-string.
Cort Elrick NJS 4 Bass Specs:
Construction:
Bolt-on
Body:
Alder
Nut Width:
1 21/32″ (42?)
Neck:
Hard Maple 3pcs
Fretboard:
Hard Maple
Radius:
12″ (305?)
Frets:
24 w/ Zero Fret
Scale:
34″ (864?)
Inlay:
White Pearloid Block
Tuners:
Hipshot Ultralite
Bridge:
MetalCraft M4
Pickups:
Voiced Tone VTB-ST
Electronics:
Bartolini Elrick NJS Special Preamp
Hardware:
Chrome
Strings:
d'Addario EXL165
Special:
Bone Nut
Color:
White, Black
Cort Elrick NJS 5 Bass Specs:
Construction:
Bolt-on
Body:
Alder
Nut Width:
1 7/8″ (48?)
Neck:
Hard Maple 3pcs
Fretboard:
Hard Maple
Radius:
12″ (305?)
Frets:
24 w/ Zero Fret
Scale:
35″ (890?)
Inlay:
White Pearloid Block
Tuners:
Hipshot Ultralite
Bridge:
MetalCraft M5
Pickups:
Voiced Tone VTB-ST
Electronics:
Bartolini Elrick NJS Special Preamp
Hardware:
Chrome
Strings:
d'Addario EXL170-5SL
Special:
Bone Nut
Color:
White, Black