New School: Dywane "MonoNeon" Thomas
Dywane "MonoNeon" Thomas is not your average bassist. Formerly known as PolyNeon, Thomas' unique style is a result of his main influences of '70s Soul and modern avant-garde music – which come together in some very interesting ways.
What makes you new school?
Well I never considered myself "new school", but I guess I do have a some characteristics that would put me under that title. A large part of me is "old school" as well, because I grew up listening to southern soul/blues and funk, stuff by Bobby Blue Band, Johnnie Taylor, Little Milton, Z.Z. Hill, Con Funk Shun, The Bar-Kays, and etc. And I am sure some people hear that influence in my playing, even when I play microtonal and experimental stuff (my "New School" thinking). I always think about, what would happen if John Cage and Johnnie Taylor collaborated? What would happen if Mavis Staples and Stockhausen collaborated?
One thing that have notice about myself is that I am not afraid to make mistakes anymore. I find ways to use my mistakes, eventually moving them from meaningless to meaningful.
How did you discover new school style?
A couple of years ago I started reading about this 20th century cultural art movement called "Dadaism" which inspired me so much, not only musically but my personal attire (wearing high-visibility clothing, bright colors, and so on).
During my reading of Dadaism I started embracing the idea of introspection, which inspired the "Polyneon" concept, now known as "MonoNeon". Dadaism also inspired my idea of the "Ready-made Bass", the idea came from Marcel Duchamp's readymade works.
I also love other avant-garde art movements, Surrealism, Pop Art, Minimalism and Lowbrow. When I found out about John Cage, that really did something for me! My interest in microtonality is because of David Fiuczynski, when I met him during my brief stay at Berklee. I am not an expert with microtonalism and eastern melodicism, but I really enjoy learning about it and finding ways to apply it to my playing and compositions.
The stuff I compose is definitely influenced by John Cage, Pierre Schaeffer's concrete music, the sounds of Iannis Xenakis and others. If not heard in my compositions, it will be audible in my playing integrated with the blues.
Do you have any videos that show off your thing?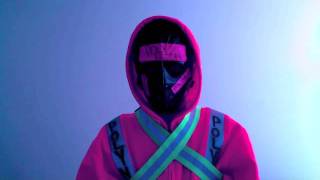 <
<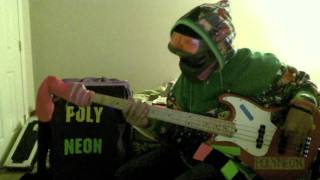 <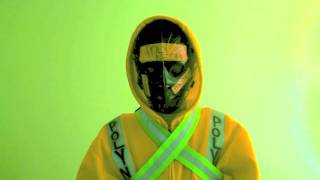 <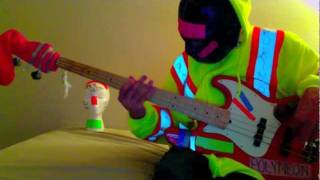 <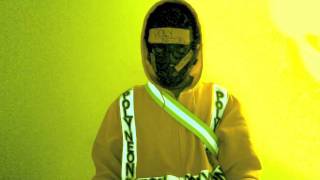 <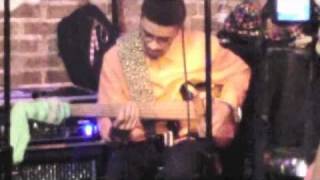 <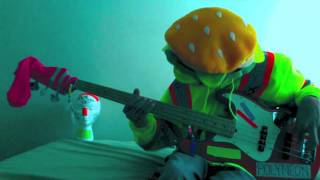 <
What kind of gear do you use?
I use EBS Professional Bass Equipment. My basses include a fretless 4-string Fender, Lakland 55-01 and 55-02, Ken Smith Design 5-string and a 3/4 size double bass.
What kind of gigs do you get with your new school style?
I recently played with The Funk Brothers and The Four Tops in Montreal. When I was at Berklee I did some gigs with David Fiuczynski in Boston and gigs with him and Alex Bailey in LA. In 2010, I played bass on Ne-Yo's fourth studio album, Libra Scale, on the track entitled "Makin' A Movie". I also played on the album entitled Directions by Forest Won with Georgia Anne Muldrow.
Any traditional playing gigs?
I play at church every sunday, it's not really traditional though. They just let me be myself!
Do you have albums where we can hear your new school style?
Here are links to some of my albums:
Where can we find you on the web?
What's next for you?
To continue living music! Finding MY OWN WAY through. I stopped thinking about worldly idea of becoming a great musician, because it did not work for me…..it became overwhelming. It's not about being different anymore, it's about doing what I want.
What else do you want to share?
Here is a blog about my "Readymade Bass".
For 12+ years, we've worked hard to support and promote the global bass playing community. Now, we're asking readers for help. Your donations will be used to cover No Treble's ongoing expenses, and all donations come with a reward. Learn more.