New School: Simon Fitzpatrick
UK-based Simon Fitzpatrick caught the attention of bass lovers around the world last year with his jaw-dropping solo bass arrangement of Bohemian Rhapsody. Since then, the Carl Palmer Band bassist has been continuing to push himself to adapt new songs to the instrument with techniques and technology.
What makes you new school?
I first started taking solo bass seriously about a year and a half ago when I joined the Carl Palmer Band and was asked to do a solo spot. I decided to be ambitious and so chose to do an arrangement of "Bohemian Rhapsody", which went really well and left me hooked on solo bass playing. There were a number of challenges to overcome in arranging and performing that piece which have helped me develop as a player and which have left me inspired to keep improving.
Since then, I've arranged a number of other pieces and have tried to do something different each time to move my self forward and expand my playing. To me "new school" means moving forward, experimenting and not being afraid of doing something different. The standard of technique which bass players have today is very high, so to be different now is not just about technical mastery, but about learning how to deploy the technique we have to more sophisticated and musically satisfying effect.
How did you discover your new school style?
By taking on challenging pieces, such as "Bohemian Rhapsody" and "Take a Pebble", my technique has evolved in a sort of Darwinian way. The techniques which have been needed in my arrangements are the ones which have survived and developed, the less useful ones have been selected out and some new ones have appeared to fulfill certain needs. So while I've lost for example some of my right hand speed in fingerstyle playing, I have developed quite a strong, almost Chapman Stick-style of tapping. I've also learnt to integrate chord melody with taps and harmonics, which has given me the freedom to be able to arrange anything I like. Along the way, I have also picked up a few extra non-standard techniques like playing with a bow or using a capo and learned to make creative use of effects pedals to solve arranging problems. For example in Pachelbel's Canon, I set the decay time on my looper pedal such that each loop would disappear after about three cycles. This was perfect for recreating a piece in which three violins all play the same music but with the start point delayed by 4 bars between instruments. The next step for me is to use the knowledge I have gained from my solo arranging to create my own compositions.
Do you have any Youtube videos that shows off your thing? (List them here)
Here are a few that haven't been featured on No Treble before: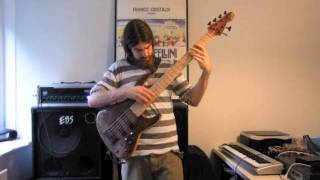 <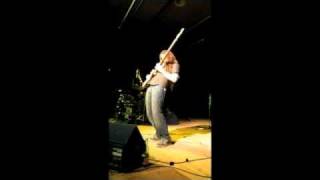 <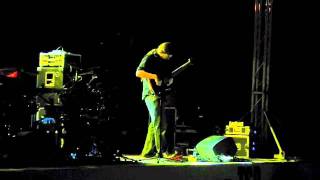 <
<
You can check out more on my Youtube channel.
What kind of gear do you use?
My gear includes a 6-string GB Spitfire, 4-string Fender Jazz, EBS TD-650 with 2×10 and 1×15 neodymium cabs for larger gigs, Markbass Mini CMD 121 for smaller ones and rehearsals, Boss GT-10B Multi FX, Digitech Whammy, Electro-Harmonix micro synth, Boomerang III phrase sampler, Korg DT-10 tuner, Cordial cables and Rotosound strings.
What kind of gigs do you get with your new school style?
My main gig is playing with Carl Palmer in the the Carl Palmer Band. It's an instrumental trio which reinvents many classic ELP songs in a guitar trio format. It's a full-on prog band, so I'm called to use pretty much any kind of technique I can think of, from tapping chordal arpeggios to playing melodies with a double bass bow. I'm also part of a London-based jazz/fusion project called Elephant Gun.
Any traditional playing gigs?
I play with a folk/pop band called The Robbie Boyd Band. In this context, I alternate between electric bass and upright bass. I play a very traditional role, here holding down the groove and playing more root notes than I've had hot dinners. We've been playing festivals around the UK, getting a bit of radio time and are starting to venture abroad. You can find out more here.
Do you have albums where we can hear your new school style?
I am currently still working on solo material.
What's next for you?
I had a UK tour with the Carl Palmer Band at the end of November, as well as a short tour in Italy with the Robbie Boyd Band.
What else do you want to share?
Thank you to No Treble for encouraging bass players to push the boundaries. For anyone who's enjoyed my playing please don't hesitate to get in touch or even request an arrangement of something. Just drop a note in the comments or reach out to me through my website.
Where can we find you on the web?