New School: Evan Brewer
Bassist Evan Brewer goes above and beyond the call of standard bass playing. With a solid foundation in heavy music as anchor of the tech metal group The Faceless, Brewer's technique and knowledge of styles allow him to do session work in all genres.
Brewer's debut solo bass album, Alone, dropped last summer to rave review.
We reached out to this exciting bassist to get his take on what it means to him to be "New School" and get the scoop on his latest goings on.
What makes you new school?
Well… I'd have to say my versatility. Now I'm sure we've all heard "old school" musicians preach to kids about versatility, but those same musicians might find themselves in unfamiliar territory if they don't stay current. Versatility used to mean being able to play a rock show, skip over to a jazz club, hit a country session, then jam a funk tune and rip a solo. Now versatility is about doing all those things but also being aware of new genres. Knowing how to bust out a pick and rip through a punk tune, or dial up a killer death metal bass tone, or emulate the synthesized bass heard in electronic music. Having an understanding of new genres and their sub-genres has become essential to being a modern working bassist. Also an embrace of the quickly moving evolution of technology. These days if you aren't able to run a DAW and produce your own music, you are at a huge disadvantage.
How did you discover your new school style?
Saying I discovered my style almost seems to imply that I suddenly happened upon it one day. I kind of prefer to look at it as a slow evolution that has taken place throughout the 17 years I've been playing. If I had to put into words how I've gotten to where I am today I'd say it came from a profound respect for the history of music combined with the willingness to embrace the evolution and future of music.
Share some of your videos with us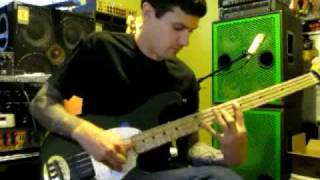 <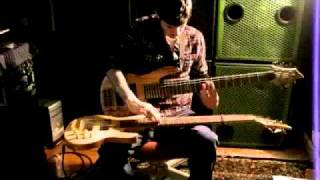 <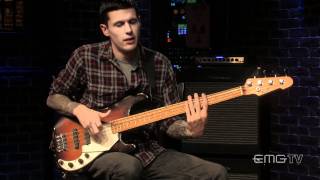 <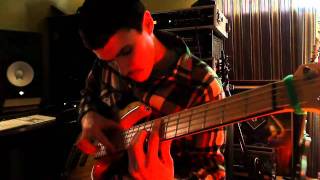 <
What kind of gear do you use?
I use a MusicMan HS 4 string for most of my slap style stuff. I have a custom ESP 5 string strung E-C with EMG pickups that I love. I use an older LTD model 5 string with The Faceless strung C-Bflat that has EMG pickups in it. Those are the main basses you'll see me using on stage right now. I have a bunch of different 4,5 and 6 string basses that I use in the studio. I use Ampeg amps (SVT 4-pro), MXR bass DI, Aguilar tone hammer, Dunlop strings, and Mackie powered monitors.
What kind of gigs do you get with your new school style?
A pretty wide variety. I play for the technical metal band The Faceless, I also tour performing material from my solo album, Alone. I also produce and play with a progressive project called Climaxes.
Any traditional playing gigs?
Absolutely. When I'm not on tour I always try to pick up gigs in my hometown, Nashville TN. To really do anything in Nashville you have to have a firm understanding of the bass guitar's role in all styles of music.
Do you have albums where we can hear your new school style?
Sure do…
Animosity: Animal
Evan Brewer: Alone
Also keep an eye out for the new album from The Faceless. Out real soon!!
Where can we find you on the web?
My Facebook
Facebook page for The Faceless
My YouTube Channel
What's next for you?
Release the new Faceless album. Hit the road with The Faceless in July on the Summer Slaughter tour. I also hope to release a Climaxes song real soon. I have 4 new songs to be applied either to a new solo album or possibly a new band.
What else do you want to share?
I'd just like to thank anyone who has taken an interest in my playing. It is an honor to know that your musical voice is appreciated by someone. If anyone would like web-cam lessons you can email me at [email protected] or message me on my Facebook. Keep an eye out for tons of new music coming soon!