Creation Audio Labs Introduces Grizzly Bass Pedal
Creation Audio Labs has unleashed the Grizzly Bass pedal, which combines boost, overdrive/distortion, and tone shaping effects. Likening it to a tube preamp without the tubes, the pedal draws from the company's other effects while being tailored for bass.
"Grizzly Bass borrows analog wave-shaping technology from the [Creation Audio Labs] Holy Fire to re-shape the waveform and achieve tube-like FX without adding noise or heavy filters, preserving your bass tone all the way down to 20Hz," they write.
The Grizzly Bass offers up to +12dB of clean boost, while its Overdrive section simulates a tube amp. The distortion control introduces a fuzzier, suqre wave type of effect for more grit and clipping. The pedal's circuitry reacts to your playing; a softer attach gives a cleaner sound and heavier attack will add more grind.
It has two tone shaping controls. The first is a mid-scoop borrowed from the company's Funkulator, which adds growl or helps with slap tone. The second is a low pass filter to remove brightness from your sound. Creation Audio says using it in conjunction with the overdrive can be used to simulate classic amps from the 60s. They round the pedal out with a Redeemer buffered bypass output, though a true bypass output is optional.
The Creation Audio Labs Grizzly Bass is available now direct with an introductory sale price of $195 and standard price of $225.
Creation Audio Labs Grizzly Bass Pedal Demos: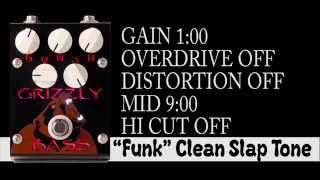 <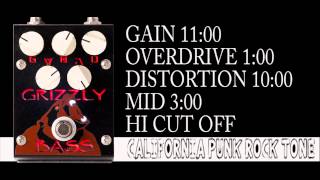 <
Creation Audio Labs Grizzly Bass Pedal Details:
Clean Boost from off to +12dB
Overdrive
Distortion
Funkulator tone shaping contour control
Hi-cut filter to shape edges for vintage speaker simulation.
Bypass: Pristine Redeemer buffered output. (true bypass is optional)
Power: 9VDC 250mA* standard tip-negative 5.5 x 2.1mm barrel connector.
Dimensions: 3.1″ x 4.25″
For more information:
Creation Audio Labs
For 12+ years, we've worked hard to support and promote the global bass playing community. Now, we're asking readers for help. Your donations will be used to cover No Treble's ongoing expenses, and all donations come with a reward. Learn more.