Bass of the Week: Roberto Franceschini Double Bass
This week we're checking out a cool double bass made by Italian luthier Roberto Franceschini. The instrument features a slimmed down body that makes it more portable while retaining the acoustic sound of a double bass.
"Various luthiers around the world have been trying for years to find solutions for building less bulky double basses without giving up any bit of its characteristic sound," Franceschini explains. "Although the size issue seemed to have been overcome with the first electric upright basses, sound continued to be a problem. An EUB often sounds like a fretless bass, but nothing like a double bass. Through my own research, I have come to the following solution: The sound box is built using the same criteria as those for a traditional double bass, but smaller in size. Since a smaller sound box does not allow the instrument to produce a strong acoustic sound, once the sound is amplified, its quality matches that of a double bass, even when played with a bow."
The luthier built the bass with flamed maple back and sides and a Val di Fiemme spruce top. Its neck is also flamed maple and matched with an elegant ebony fingerboard. It also has a foldable shoulder that helps to make the bass sit properly against the player. For further portability, Franceschini made the neck removable while fixing the sound post inside so it won't fall during disassembly.
Check out how it sounds with these demos: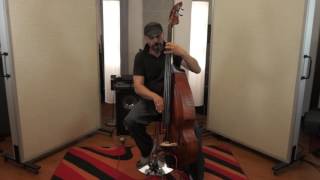 <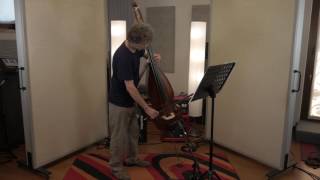 <
Roberto Franceschini Small Body 3/4 Double Bass Specs:
Top:
Spruce Val Di Fiemme
Back and sides:
Flamed maple
Neck:
Flamed maple
Fingerboard:
Ebony
Scale length:
102/104cm
Total length:
153cm
Max width:
38cm
Sides high:
12cm