Trickfish Amplification Unleashes the Trilobite Preamp Pedal
After revealing it at the Winter NAMM show back in January, Trickfish Amplification has announced the Trilobite preamp pedal is available for pre-order. The pedal packs in two of the preamps found in their Bullhead amps with plenty of connectivity and routing options.
Each channel of the Trilobite has independent gain controls with a four-band EQ. Channel A expands on this with switches to change the frequencies controlled by the lo and hi-mid knobs. The far left footswitch toggles between the channels, which can be set to be used in mono mode with a single instrument or dual mode with two instruments plugged in.
The Trilobite also has two effects loops, the first of which is switchable and has a side-chain dry blend on the back for adding in a dry signal to retain low end. Its second loop is an insert loop.
The back panel has two direct outs with one having a pre/post switch and the second (aux) always being set to post. It also has dual inputs, the dual/mono mode switch, the amp out, a line input, a tuner output, and a headphone output.
You can get an overview of the pedal and a quick demo in these two videos from Trickfish: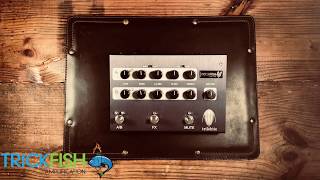 <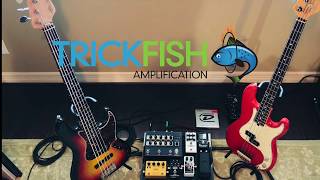 <
The Trilobite is available for pre-order now with a special price of $549. The regular price will go to $599 after the pre-order.
Trickfish Amplification Trilobite Preamp Pedal Features:
Dual Channel Preamp with Mono/Dual Instrument Modes
4-Band EQ for Each Channel with Mid-Frequency Selectors on Channel A
Master Output
Dual FX Loops: Parallel with Blend and Insert
Mute Switch
Direct Out XLR: Balanced XLR connection with Pre/Post Select Switch
Aux Direct Out XLR (Post EQ): Balanced XLR connection
Amp Output
Line Input
Headphone Output
Tuner Output
For 12+ years, we've worked hard to support and promote the global bass playing community. Now, we're asking readers for help. Your donations will be used to cover No Treble's ongoing expenses, and all donations come with a reward. Learn more.