Dream Theater Releases "Distance Over Time"
The wait is finally over: Dream Theater's fourteenth studio album, Distance Over Time, is available now. The album was created with a more tight and focused sound compared to 2016's The Astonishing. The whole writing process took only 18 days, which they say harkens back to the process for 2003's Train of Thought.
Of course, the album is anchored by the mighty John Myung. The notoriously quiet bassist gave a video interview about recording the bass for the album. "My mindset going into the record in terms of the sound I wanted was [that I left it] open to Jimmy T, who's engineered prior Dream Theater records," he said. "I was interested in seeing what he would come up with. It was really apparent how it was sitting in the mix because it was very alive."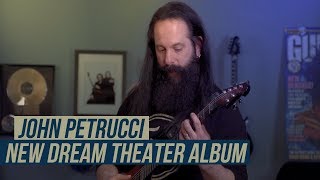 <
<
Distance Over Time is available now on CD, vinyl and as a digital download (iTunes and Amazon MP3).
Distance Over Time Track List:
Untethered Angel
Paralyzed
Fall into the Light
Barstool Warrior
Room 137
S2N
At Wit's End
Out of Reach
Pale Blue Dot
Viper King
Grab a 4-pack of custom No Treble coasters. Each coaster is printed in full color on thick, premium coaster board and cut precisely into a 3.7" circle. Buy Now.