Bass of the Week: Davie504's Diamond Play Button Bass
Popular YouTuber Davie504 recently passed 10 million subscribers on his channel, earning him a Diamond Play Button from the company. The creative bassist knew just what to do with it: turn it into a bass.
He sent the award to Carlo Carbone at Amnesia Guitars, who modified his Midget bass model to make it happen. The bass is thicker and wider than the standard version to accommodate the award, which can be removed. With the Diamond Play Button inside, the bass weighs nearly 20 pounds. Carbone even says, "I don't suggest you to use it in an eventful evening!"
Due to the award's placement, the pickup is placed closer to the neck than usual. "The sound is different from what you expect from a standard jazz bass," the luthier states. "It's somehow different and interesting because it's not so simple to find something similar on the market."
You can hear all about the bass from Davie504 as well as Carlo Carbone in their own YouTube videos: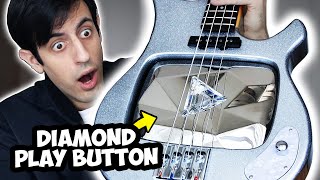 <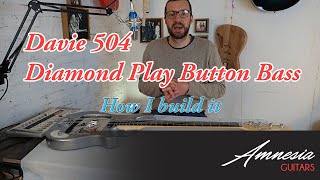 <
Davie504 is auctioning the bass on eBay, where it is currently bid at approximately $18,811.
Amnesia Guitars Davie504's Diamond Play Button Bass Specs:
Scale:
34″
Construction:
Bolt-on
Body:
Alder
Neck:
Maple
Fingerboard:
Rosewood
Inlays:
Mother-of-Pearl Dots
Frets:
21
Pickup:
MAMA Single Coil
Bridge:
Schaller 3D-5
Tuners:
Cluson