Ampeg Introduces the SGT-DI Bass Preamp/DI Pedal
Ampeg is gearing up for the NAMM Show in April by revealing a new pedal called the SGT-DI. The company calls the unit an "entire rig in a single stompbox."
It has Ampeg's Super Grit Technology, which is an overdrive circuit that replicates the SVT and B15 voices, as well as a three-band EQ with sweepable mids. Ultra Hi and Ultra Lo switches offer more general sculpting. Other features include a variable compressor, an auxiliary in, headphone output, and preamp output.
The SGT-DI is also notable for Ampeg's first foray into the world of IR loader/cab simulators. A three-way switch lets you choose between 1×15, 4×10, and 8×10 simulations. A free Ampeg IR Loader application allows for loading your own Impulse Responses.
Hear more about the SGT-DI from Ampeg's Dino Monoxelos and Dom Liberati, then check out a video of sound samples: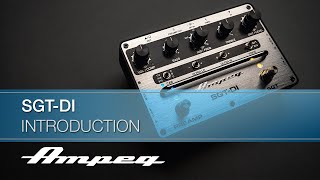 <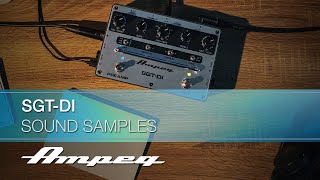 <
The Ampeg SGT-DI is available now for $399.99.
Ampeg SGT-DI Preamp and DI Pedal Features:
3-Band EQ with sweepable Mid circuit
SGT circuit with SVT and B15 voicing switch
Onboard IR Loader/Cab Simulator
Ultra-Hi and 3-way Ultra-Lo switches
Variable 10:1 compressor