Reader Spotlight: Kurt Skrivseth
Meet bassist/multi-instrumentalist Kurt Skrivseth, a musician hailing from Montana. Kurt's story is a great one, including having performed with both Slash and Snoop Dogg. His gear list is pretty GAS-inducing too. But most impressive is Kurt's story of overcoming injury to pursue his dream of music and playing bass. Kurt turned this into an asset – one he refers to it as his superpower in response to our question.
Kurt is our player in the spotlight for the week of July 3, 2012.
Bio:
I'm a music major at the University of Montana specializing in Composition and Music Technology. I started playing bass when I was 16. My first paid gig was three years later, performing in front of a crowd of 3,000 people, where I got to play with Slash and Snoop Dogg. I play bass, guitar and mandolin.
Location:
Missoula, Montana, United States
Day gig:
Student/writing/recording songs
Years experience:
8 years
Bands & Gigs:
I've been in a few local bands, and in 2008 I was hired as Best Buy's bassist for a couple national roadshows and played to about 6,000 people.
I'm in the University of Montana Blue Note Jazz Combo, and I play various benefits for the Montana VSA Program.
I am currently writing/recording material for a first release by my project Salmon Hammock.
Gear:
Custom Fender Deluxe Jaguar Bass (signed by: Victor Wooten, Billy Sheehan, Bootsy Collins and Nate Watts)
Custom Warwick Corvette $$ NT Fretless 5 string
Music Man Stingray 5 Classic
Spector Legend Custom 5 string bass
Ibanez BTB456QMTK 6 string bass
NS Designs NXT5 Electric Upright Bass
Takamine G Series Acoustic 4 string bass
Fender Pro 400 2×10 Combo Bass Amp
Fender American Deluxe Strat
Epiphone 1965 Re-issue Elitist Casino (signed by all member of "Weird Al" Yankovic's band.
Customized Mexican Fender Telecaster
Gibson Firebird V
Epiphone Slash Signature Les Paul (signed by Slash)
Fender Hot Rod Deluxe Guitar Amp
Takamine G Series 12 String Acoustic
Taylor 510-ce Acoustic
Morgan Monroe Serenade Acoustic
Flatiron F-style Mandolin
Why I play the bass:
I originally picked up the guitar, and knew I wanted to hold down the low end the first time I heard Nirvana's "Sliver". There's something about the tone of that song that just drew me in. My dad had a 1972 Les Paul Triumph bass, and everything just fell into place.
I started teaching myself Zeppelin songs and soon moved to the Chili Peppers and more R&B based stuff. Once I figured out how to slap, I found myself mixing that percussive style into regular, more traditional basslines.
My bass superpower/claim to fame
Due to a birth injury, I can't use any of the fingers in my right hand, but I'm missing a nerve in my right arm that allows me to wiggle my thumb free from the joint, so I can slap with my right thumb faster than most people can pluck or pick. It's forced me to develop my own style, and I'm cool with that. I'm interested in stretching the expectations of what people think of the bass.
My influences
While I mostly play 5-strings (I refuse to play in alternate tuning), almost all of my players that I draw from play 4 strings: Flea, Stefan Lessard, Geddy Lee, Victor Wooten, Jeff Ament, Anthony Wellington, Steve Jay, Alex Katunich, Jim Creegan, John Paul Jones, Nate Watts, Alphonso Johnson, Alex James, Nate Mendel, Bootsy Collins, Billy Sheehan, Chris Thile
Kurt Skrivseth's Videos:
<
<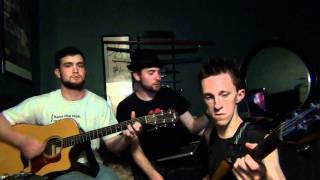 <
More on the web:
Grab a 4-pack of custom No Treble coasters. Each coaster is printed in full color on thick, premium coaster board and cut precisely into a 3.7" circle. Buy Now.