New School: Quintin Berry
Quintin Berry is a bassist who sticks out. Instead of holding his bass like most players, Berry created what he calls the "cradle style," in which his right arm supports the body of the bass while the neck angles down towards the ground. It developed out of applying things he learned from violin lessons, and though it started from messing around, he's perfected the style and made it his own.
So we set out to find out more about this exciting bassist, and find out more.
What makes you new school?
I don't consider myself new school because I have been doing this since the age of 12. The world is able to see it because of the internet and that hasn't been around that long. So, I guess that my style of playing would be considered new school to the world.
How did you discover your new school style?
I started playing bass at the same time that I was taking violin lessons in school.
Share some of your videos with us.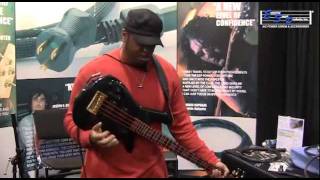 <
<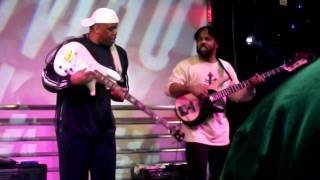 <
What kind of gear do you use?
Spector Basses, Aurora Strings, GK amps, Source Audio pedals, EMG pickups.
What kind of gigs do you get with your new school style?
I am in the band The Ugli Stick, and I also do bass clinics and a lot of studio work.
Any traditional playing gigs?
Just the normal, a working musician.
Do you have albums where we can hear your new school style?
Yes, they are available on Tunecore and iTunes. They are Reaching Out, Hot Hands, and 2010. I have two more that I have to rerelease.
Where can we find you on the web?
What's next for you?
More song writing and trying to get my music into the video game world.
What else do you want to share?
I have a signature bass coming out with Spector. I am going to be on the cover of a new line of bass strings by Aurora and I was asked to play during Bass Player Live in LA.