Bass of the Week: Letts Basses Yves Carbonne Signature 2-String Bass
Many people know bassist Yves Carbonne for his incredible playing on extended range instruments with up to 12 strings. Most can enjoy the music, but some can't get past the number of strings on his bass. After musing online about the merits of how many strings a bass should have, Carbonne teamed up with luthier Jon Letts to create the YCII 2-string Bass.
"I've been playing extended range basses for many years, and I got my first fretless 5-string with high C in 1982," he explains. "Ten years ago, I started to ask myself, 'How many strings do I really need for playing bass lines?' I see my 12-string instruments as full-range fretless guitars (8 octaves) in a bass guitar format. They are great tools I mainly use for creating my music. Most of the time, I get positive reactions on the internet about my music and the instruments I use. They are very encouraging for continuing what I'm doing. I learned not to be too affected by negative comments [because] people have the limits of their own imagination. For some of them, what they call a 'real bass' has 4 strings – not more, not less – and it should never change.
But why 4 strings? The first double basses had only 3 strings, and before them, bass stringed instruments with 6 or 7 seven strings were common. So I asked myself, 'How many strings do I need for playing bass and nothing else?' It does not mean doing this or that because everybody else is doing it like this or like that, it has to do only with me and my perceptions and the directions I want to take in music and art. And it makes sense for me that the answer is… 2! I truly believe that a 2-string bass is enough for playing 95% of all the bass lines in all music styles."
The single-cut bass features a mahogany core with black walnut laminates, a poplar burr top, and a mahogany one-piece bolt on neck with a black ebony fingerboard. "It has carved top and heavily carved ergonomic back," Letts shares. "The neck has extra space either side of the strings in order to achieve a familiar feel and also to add strength. The fingerboard has a light radius and jescar evo-gold 43080 fret wire."
Carbonne has it tuned to E1 and A1, though he may experiment with other tunings. The two-string setup pushes him to be more creative, he says. "[Another] reason for the 2-string is horizontal playing, something that most bassists never develop. Jaco was a master at horizontal playing and strangely this is an aspect of his playing that a lot of bassists don't really perceive. I think that creativity has to do with not being stuck in habits. I you always play the same instrument, you may develop your virtuosity by maybe not your creativity. Juggling from 2 to 4, 6, 8, 10 & 12-string instruments forces me to focus more on music and creativity than on my licks."
It also has tonal effects. "While most people would question the need for a 2 string bass, Yves had his reasons for owning such an instrument. One reason is the response and tonal transparency that is achieved with such a thin neck," Letts says. Carbonne adds that the less strings you have on an instrument, the easier it is to get a clear sound due to less pressure on the instrument.
The bass is fitted with a pair of Letts neodymium single coil pickups matched to a custom Ben Woolley preamp. The controls include a push-pull active/passive volume, blend, bass and treble boost/cut. So how does it sound? Check out these clips that Carbonne recently uploaded: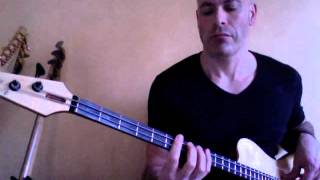 <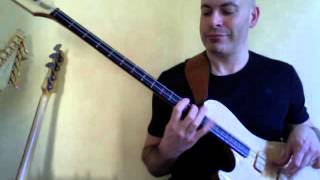 <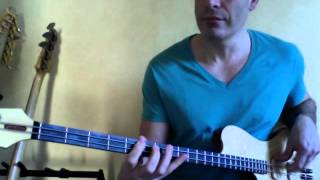 <
"It's challenging because it's a new instrument for me," Carbonne sums up. "I need to find my way on it! I love it because it forces me to concentrate on my horizontal playing. The 2-string and the 12-string are opposed but necessary aspects of the same things: imagination. They are amazing tools for music!"
Jon Letts Yves Carbonne YCII Bass Specs:
Strings:
2
Scale:
34″
Body:
Mahogany, Black Walnut
Top:
Poplar
Neck:
1-piece Mahogany
Fingerboard:
Ebony
Frets:
24
Pickups:
Letts Neodymium Single Coils
Preamp:
Custom Ben Woolley
Bridge:
ABM
Tuners:
Hipshot Ultralite
Finish:
Gloss nitrocellulose on top and headstock, the rest of the bass is natural oil and wax.
For more information, check out the Letts Basses website.