New School: Seth Horan
When you get down to it, what's music without context?
New School bassist Seth Horan, who has been bringing the bass to the forefront with his solo singer/songwriter style for a decade now, says it is all about the song.
After being introduced to virtuosic bass music while still a novice to the instrument, Horan's style grew steadily through his love of technique and composition. He's made a name for himself playing solo shows, singing his original songs and laying down the low end (among other parts) simultaneously.
So we reached out to Seth to find out what makes him tick.
What makes you new school?
Hmm… Compared to what? I don't really look at it as a "Column A" and "Column B" scenario. I think it's a sliding scale, with some players leaning towards tradition and others who really push the envelope, but with most moving around in the center, looking for what suits them best.
I use the bass as the accompanying instrument for my voice, but there are plenty of traditional bassists who've accompanied a vocalist; usually in song intros or breakdowns. What pushes me towards the "new school" side of things is my approach.
What I do is attempt to imply the rhythmic and harmonic components of a song on the bass (sometimes with a loop pedal) while I sing over the top of it. I'm almost always playing chords; often very percussively, and I use techniques that most "old school" players find overbearing, like slapping, tapping, strumming, and gratuitous use of harmonics. Even when I play my songs with other musicians, my parts drive the songs while the other instruments play supplemental roles.
I realize there are hundreds of bassists who could use similar phrases to describe themselves, so here's the thing I think sets me apart: I write songs, I sing them and you don't need to attend a jazz ear training course to get what I'm doing.
The "new school" bass community doesn't have much of a "middle class", buts that's where I'd say I fit in. It's mostly made of two kinds of players: those who have crammed their brains full of harmonic knowledge and dedicated themselves to exploring sophisticated chord changes in ways that only other bassists can appreciate… and the other guys who have no experience with any of that, so they compensate by hammering away on one-chord with as many flurry-of-notes techniques as they can find on YouTube… playing what you might call "party trick bass".
What they usually have in common is the odd expectation that there must be some kind of obvious, face-melting moment in every song; some phenomenon that makes them high-five and say "THAT was INSANE!", the way they would at a sporting event or stock car race. It's as if they're agreeing that "the bass couldn't possibly be a vehicle to just experiencing a song, so we'd better get on with the three-over-four-machine-gun-sextuplets or non-stop-flamenco-slapping-in-E-minor".
I put myself in the "middle class" because I need more structure than party trick bass provides, but I don't get excited about constant chromatic harmony, either.
At the core of it, I'm just writing songs, using what I know to play them on the instrument that has always felt like home to me. And that ends up being… different.
How did you discover your new school style?
Heck, I didn't discover any of it… all my influences did, and I steal everything from them. When I was twelve, having just started on the bass, I had an uncommon experience: my father gave me Michael Manring's debut album Unusual Weather. When I heard the title track and then "Longhair Mobile", my perspective shifted before it had really formed in the first place. So I've never considered the bass to be an instrument with "limitations", or that there are things one "shouldn't" do with it.
I still played very traditionally until I started writing my own songs. I started using more notes to make sure I was duplicating what I heard in my head, but I didn't intend to play all those notes myself. I was writing with a group in mind.
Later, when I found myself without a band, I started playing open mics, but that was with the intention of finding other people to play with. It dawned on me pretty slowly that audiences might actually enjoy hearing me play alone for an entire set, but when it finally sank in, I grabbed that ball and ran with it.
Share some of your videos with us
Here are four, covering looping ("Letter to the Editor"), tapping ("Happy"), slapping ("Something Pretty") and a mix of them all ("Ivory Tower").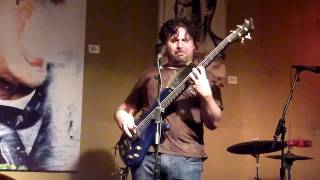 <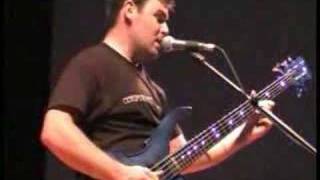 <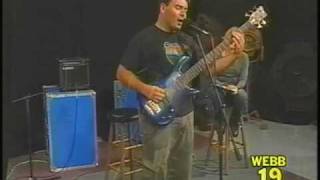 <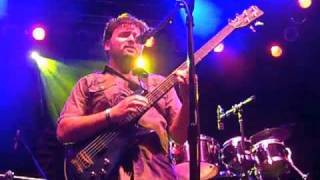 <
What kind of gear do you use?
I currently play three main axes. I have a 5-string, fanned-fret custom JC Bass built for me by Jared Carpenter, and that has Nordstrand Fat Stacks pickups and a Nordstrand 3B-5b onboard preamp in it. My other two are Warwick Streamers (one is a Pro-M and the other is a Jazzman. Both have Aguilar onboard preamps in them).
Since 2010, I've been endorsing Phil Jones Bass amps. I have a 20-lb, 250 watt PJB combo amp called the "Super Flightcase", and I haven't needed anything else since I got it. Everywhere I go, sound men and students covet it and try to get me to sell it to them. (But that's not gonna happen; you must buy y'OWN. :)
What kind of gigs do you get with your new school style?
That's an interesting question, because I rarely get booked on account of my new school style. I mean, I've been playing at The NAMM Show each January for eleven years now, and that's on account of how I play, and I traveled the globe doing clinics for Warwick because I was different. But if you're talking about steady, individual dates at venues, well, most booking folks love to remind me that they book me despite what I do, not because of it, and that is a big cautionary tale for other bassists who have an inkling that they'll do something similar. Being "different" is, at least at the outset, an uphill battle in show business.
I've had a lot of great gigs playing house concerts… you want to talk about "new school"? House concerts are where the New School music is at. The idea is this: You know you don't draw enough people to headline at a venue… your fans won't make the trip unless you're headlining at a venue… neither you nor your fans really like the awkward and degrading "solo singer-songwriter in a bar"-vibe…
So someone makes their house the venue, and it's pretty much the greatest thing ever. There's a reasonable number of appreciative people who came to hear the music, who paid a fair price to do it, and it's all in an atmosphere where you can actually connect with them without yelling over the house system or inhaling the fake smoke from the dry-ice machine.
Any traditional playing gigs?
I still play "real" bass on other people's records, in pick-up bands, and in projects I have with some of the other musicians I've taught with. I also have a history of being the bass player for whoever I'm touring with, and that's always fun, especially in front of an unsuspecting crowed when the other artist hits the stage first. Afterwards, I step out of the sideman role and start putting both hands on the neck, and then the riots start.
Do you have albums where we can hear your new school style?
I do. I've released five albums in total. But rather than make a new listener try to figure out where all the interesting bass-bits are, I put together a short iTunes playlist. If anyone digs on the sound of a particular tune, they can click on the album it comes from and hear more.
Where can we find you on the web?
ReverbNation
Soundcloud (I've got two newer demos up there)
Twitter
…and of course, there's my website —it's a hub for all the social networking sites, iTunes, my blog, etc.
What's next for you?
Last year I moved from Nevada to Upstate New York, where I now teach regularly in Rochester, Syracuse and Ithaca, but I've been writing a lot of new material, and I'm starting to book a tour for Fall of 2012 after I release the new songs formally.
(Booking inquiries welcome! I handle it all myself via [email protected])
What else do you want to share?
My thanks! In March of this year I realized that I've been at the full-time music game for a decade-and-counting, and doing what I do, that's a few shades less than "unlikely". I'm grateful that anyone takes the time to show support for anything I create; it's why I keep putting it out there, and it's why I still travel to play gigs in this whack-job economy.
Artists like me will keep playing in our home studios as long as we're ticking, but the thing that keeps us motivated is the validation we get from the people who care.
To all of those people out there: thank you!
For 12+ years, we've worked hard to support and promote the global bass playing community. Now, we're asking readers for help. Your donations will be used to cover No Treble's ongoing expenses, and all donations come with a reward. Learn more.