New School: Scott Fernandez
Extended range bass artist Scott Fernandez is pushing musical boundaries. Equally comfortable on a 4-string as well as his 12-string, Fernandez incorporates his extended techniques to create lush harmonies, intense counterpoint, and intriguing melodies. His arsenal of effects pedals also help to create thick soundscapes while adding depth to his compositions.
Fernandez only stepped out into the solo bass arena a year ago, so we reached out to get more about his background, his style, and what he's up to.
How did you discover your new school style?
I discovered my way of playing through a series of mistakes. I started off on the upright and I had no idea what I was doing on the electric. When I asked a guy at the new high school I was sent to "how do you play bass" he responded by telling me to use my thumb as a pick. I think it was a bit of confusion due to my thick accent or something because I found out later that he was talking about his style of slap bass in particular. It was too late and I've been slapping and tapping my way around ever since. Also, that fella from my high school is a friend of mine named Evan Brewer.
Share some of your videos with us.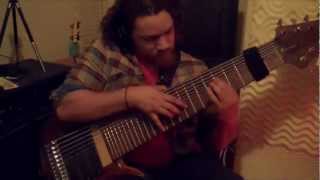 <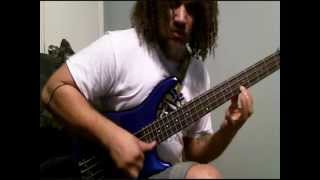 <
What kind of gear do you use?
I use some pretty fun stuff:
Basses
12 String Benavente, 4 String Carlo Robelli (after market EMGs with custom wiring)
On the way: 18 String Prat (by Oscar Fernandez Prat) and 8 String Ataraxia (by Leo Pedersen)
Amps
Trace Elliot All Valve V-type 1×15 Combo (UK) (2 of them run in stereo)
Pedals
Electro Harmonix HOG w/Controller
Electro Harmonix Freeze Pedal x2
Electro Harmonix Bass Big Muff
Electro Harmonix Hum Debugger
Electro Harmonix Stereo Talking Machine
Electro Harmonix Metal Muff
Electro Harmonix Analogizer
TC Electronics Nova Reverb
TC Electronics Nova Dynamics
TC Electronics Nova Drive
TC Electronics Nova Modulator
TC Electronics Tuner
What kind of gigs do you get with your new school style?
I play all kinds of gigs. When I began this journey as a solo artist, I decided that I would never be too good to play a venue or with a band. I will play dive bars and sweaty metal clubs, jazz caves and outdoor stages… I play street corners and concert halls. I never say no.
Any traditional playing gigs?
I am heading out on the road with an artist named Felix Martin coming up in September but aside from that I play solely as a solo artist. I will pick up a random jazz gig or country gig if I need some extra cash but it's very few and far between.
Do you have albums where we can hear your new school style?
I do not have any albums recorded. I'm working on getting all the tunes prepared for my first solo EP/Album. Coming soon…
Where can we find you on the web?
I stay pretty active on the internets:
What's next for you?
For me, it's all about getting the music recorded and taking my freak show on the road. I am hoping that everyone enjoys it everywhere I take it. I don't know what happens next in the musical process but I am hoping to be able to take this is as far as a solo artist can take it.
What else do you want to share?
Not too terribly much. Thank you for taking the time to have me involved in your wonderful publication. I've only been a solo artist for a year and the amount of support and acknowledgement from fans and people involved in the industry has been overwhelming. I promise to continue to do my best.
For 12+ years, we've worked hard to support and promote the global bass playing community. Now, we're asking readers for help. Your donations will be used to cover No Treble's ongoing expenses, and all donations come with a reward. Learn more.