The Language of Bass: An Interview with Anthony Crawford
As genres morph and blend into each other, it has been increasingly important for bassists to be able to cover a variety of styles. Many get a style knowledge that is either an inch wide and a mile deep or a mile wide and an inch deep. Anthony Crawford's knowledge is a mile wide and a mile deep.
That may be in part because Crawford got an early musical start. His father is drummer Hubert "H-Bomb" Crawford, who toured extensively with artists like James Brown, Cyndi Lauper, Mother's Finest, and the Bar-Kays. His uncle is jazz saxophonist Hank Crawford, whose work is often sampled in hip-hop. Anthony picked up the drums after watching his father's performances, eventually switching to the bass at the age of 12.
Besides the obvious jazz, R&B, and soul influences from his relatives, Crawford also cites lots of rock and metal music as influential. A page of inspirational albums on his website ranges from Primus to Rush to Stanley Clarke to Yanni to the Yellowjackets. His hard work transcribing and mastering all of these styles has led to work with a similarly incredible array of musicians: Erykah Badu, Justin Timberlake, Virgil Donati, Andrae Crouch, Jeff Lorber, Dave Weckl, and Allan Holdsworth, just to name a few.
His latest solo album, Urban Jazz, was made as a mix of hip-hop, pop, and jazz. Most recently he's featured on "Nocturnes and Requiems" by metal outfit Witherfall. Sometimes prog and sometimes thrash, the project turned out to be a perfect fit for Crawford's talents.
We caught up with the bassist to get the scoop on his musical upbringing, his extreme versatility, the new Witherfall album, and more.
What was it like growing up in such a musical family? Was there pressure to play?
Growing up in a musical family was a great experience for me. Being raised by my father, who is a professional working musician, I was able to see both sides of the music industry. The performance side and the business side. When my father was signed to Electra Records, I got to see the record label contracts. I got to hear the phone calls from lawyers, managers and booking agents all by the time I was 13 years old. I would say more pressure was put on me to make sure my business was taken care of more than just playing. My father always preached to me that the music business is 80% business and 20% playing. I always had a love for music because I was around music so much. Playing the bass came naturally to me.
How do you feel starting on the drums influenced your bass playing?
Starting out on drums influenced my bass playing a lot. Being a bass player, I have to have a sense of rhythm as well as a sense of harmony. The bass is an instrument that can dictate the chords and rhythm of a song. That's one reason why I like bass. It has a strong influence on the overall feel and mood of music in general.
It sounds like you were pretty heavy into rock and metal as a teenager but Victor Wooten's A Show of Hands was the turning point that led you toward bass virtuosos. How did you find that album, and what was it about the music that drew you in?
I first found out about Victor Wooten in 1993. I used to listen to Bela Fleck and the Flecktones, and I always thought he was a good bass player. When he put out his first solo album A Show Of Hands, the entire album drew me in. The fact that he recorded the entire album with no overdubs and played everything with only 4 strings made me want to study him and find out how he was doing all of that. That was back in '96 so there was no YouTube. I could only use my ears, and because of that, I was able to discover my own unique sound. I think studying A Show Of Hands had a great influence on me developing my sound.
Many players talk about being versatile, but I don't know anyone as deeply versatile as you. How important is that to you?
It's very important to me. Being versatile is just like speaking different languages. If you speak only one language, then you may not be able to connect with a lot of other people in the world because of a language barrier. The same thing applies to music. I try to learn as many different languages as I can in order to communicate with people all over the world musically. That's why you will hear me on jazz albums, pop albums, urban albums, gospel albums, rock albums, metal albums, Brazilian albums, etc. It's all a language to me.
Do you actively seek out different styles to listen to, or do you just have a mashup of genres you like?
I would say that I have a mashup of genres I like, which is a lot. A lot of music today is not really being categorized as a specific genre because so much music is incorporating multiple genres in one song. I tend to like the music that you can't categorize. It shows that the artist or band is stepping out of the box and is exploring creative ideas and moods.
How do you keep up with all the different styles? Do you practice applying different techniques for certain situations?
In every style of music I do, I try to remain myself. I have listened to so much music that I have a natural instinct on what to play whenever I am playing music in multiple genres. I am starting to get back into practicing more and challenging myself. Sometimes I think technically because a lot of gigs I do require a ton of technique and skills. If I wasn't a good technical bass player, I would not be qualified to do a lot of my current gigs.
Are you a big practicer? If so, what kind of a routine do you keep – what do you work on?
Whenever I practice, I try to work on things that I'm weak at. Things that I know I can improve on is my harmonic approach. Personally, I love to see bass players solo in a melodic way over chord changes. So that's what I am always working on in my practicing routine these days.
How did your work with Witherfall come about?
I got an email from their engineer at the time, Ralph Patlan. He knew of my work from Allan Holdsworth and Virgil Donati. Ralph told me about the band and asked me if I would be willing to record for their album. I agreed, and when I got the music, I was digging the tracks from the start. There were no vocals, just guitar, and drums. I used my ears, and I approached the recording as if I were a part of the creative process of making the album. I did not want to record a simple bass track, but I wanted to get involved with the music, rhythm-wise, melodically, harmonically and lyrically. So I recorded a lot of intricate bass parts, and the band loved it.
How do you approach a project like this?
The way I approached this project was to just be myself. I have listened to a lot of metal and rock albums throughout my life to understand the dynamic, feel and approach that comes with recording this type of project. I did notice that the guitar player (Jake Dreyer) sounded a lot like Yngwie Malmsteen. I'm very familiar with Yngwie's music, so I captured a lot of his elements in the Witherfall recordings.
Check out playthroughs of Witherfall tracks: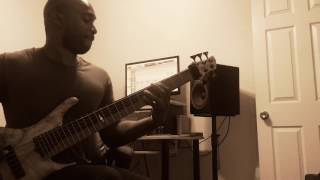 <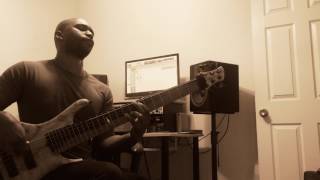 <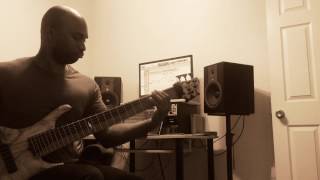 <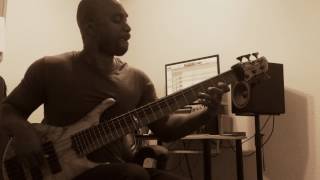 <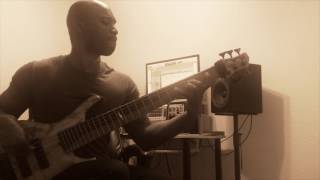 <
Did you have a favorite track to work on or build the bass line to?
Every song on the Witherfall album was a journey for me. I did not approach each track the same way. Each track told a different story, and because of that, I told a different story on my bass. I would say "Nobody Sleeps Here" was a great song to record because it felt like a roller coaster for me. It started off hard in your face, then it goes to a funk like groove, and then it goes hard again. At the end of the song it goes to a breakdown sparse section, in which I play fretless bass. I play a lyrical melodic line at the end of the song. I did not know if it would work when I first recorded it but the band actually liked it, so we kept it, and it seems like the perfect ending for the entire album.
Any tips for up and coming bassists?
Don't limit yourself. Don't be afraid to take chances. Always be open for new challenges and ideas.
What's coming up this year for you?
This year I'm working and touring a lot with jazz pianist Lao Tizer. I'm also working on putting out my third solo album, which will be a holiday album. I am working on releasing more YouTube content, performance, and instructional videos. Lastly, I'm going to work on getting more solo dates as well.