Adamovic Unveils the Katana Concept Bass
Adamovic Basses has unveiled the latest in their Concept line of instruments with a bass called The Katana. The company has been developing it for several years after requests for a modern bass with "a very warm yet clean and articulate tone and fast response."
"A bass that was designed for playing chords, melody, and more difficult pieces. Ideally, with shorter scale, narrower string spacing and an extended fingerboard," Adamovic writes. "While building the prototypes we talked to our Japanese distributor Yusuke Koshino and when he heard what we were working on, he connected us with Moto Fukushima. This turned out to be a perfect combination and the collaboration resulted in the new concept bass called Katana."
The bass is customizable with a set of standard features, including a 33-inch scale, an extended 27-fret fingerboard, and a ramp bar with a matching fingerboard cover. Its hand-carved body is mahogany with your choice of top wood while the five-piece neck is constructed from maple and wenge. The greenheart fingerboard is rounded with frets dressed inside the edges for a smooth feel. It's also inlaid with edge markers.
For electronics, Adamovic utilizes its RampbarXL pickup. "This pick-up houses a pair of our bassbar humbuckers and doubles as a big ramp," they explain. "The surface follows the curvature of the strings and has a large surface area to play over and an extended right hand position area. Which enables you to move your plucking hand more towards the bridge or neck for subtle tonal differences." Electronics can be passive or active with options of a three-band Glockenklang or Noll preamp. Hardware includes a Hipshot A-style bridge and Ultralite Tuners.
Hear the bass in the very capable hands of Fukushima, who has joined the Adamovic Basses artist roster: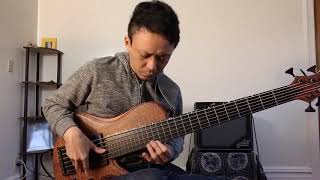 <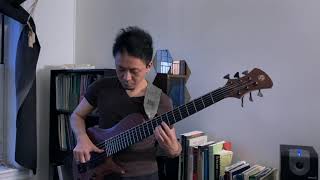 <
The Adamovic Katana Concept Bass is available for order now with a starting price of approximately $5,250.
Adamovic Katana Concept Bass Specs:
Strings:
5 or 6
Scale:
33″
Body:
Mahogany, Hand-carved with X-ergo shaping
Top:
Choice of Woods
Neck:
5-piece maple/wenge
Fingerboard:
Greenheart
Frets:
27
Inlays:
Edge Markers
Pickups:
RampbarXL with Matching Fingerboard Cover
Electronics:
Passive or Active with Glockenklang or Noll preamp
Bridge:
Hipshot A-Style
Tuners:
Hipshot Ultralite
Finish:
Catalyzed Oil
Case:
Hard Case Included
Other:
Schaller Security Locks, Rounded Fingerboard with Frets Dressed Inside Edges, Black Veneer Between Body and Top, Volute-Reinforced Angled Headstock, Matching Headstock, Warranty, Tools, Certificate Included