New School: Todd Matthews
Todd Matthews first caught our attention with his awesome looping rendition of Led Zeppelin's "Kashmir" on double bass. Since then, the innovative bassist has refined his style even further to include effects and incredible arrangements to fill out the sound of an entire orchestra. He recently released his debut solo album, Here Come the Pig Mammoths, which has nothing but bass layered over bass to create rich harmonies and exciting sonic textures.
We caught up with Todd to get his story.
What makes you new school?
The fact that I run my upright bass through a pedalboard and a laptop for effects and looping makes me a musician that is doing something new with an old instrument.
How did you discover your new school style?
I was inspired by artists like Todd Reynolds (violin) and Zoe Keating (cello) who used their instruments with a laptop for live looping performances. In the past I loved music technology and playing classical bass in symphonies but they were two separate parts of my life. When I realized that I could combine the two passions, there was no turning back.
Share some videos with us.
<
<
<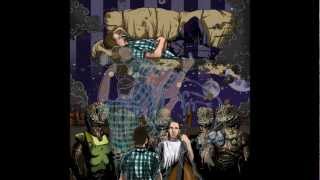 <
What kind of gear do you use?
I run my pickup (for the longest time a Fishman Full Circle, just recently the Yamahiko pickup) into a Headway EDB-1 and then into an audio interface so I can process the audio with a computer. On the software side of things I go back and forth between MainStage and Ableton Live to host my effects plug-ins and looping software. For the looping software I use Circular Labs, Möbius. It is the most amazing piece of software that requires a significant amount of time to wrap your head around if you're new to looping, but has a huge payoff in the end if you invest some time with it. It is free software on Mac/PC, so if you wanted to experiment with looping I suggest you give it a spin. Since my hands are busy playing the bass, I use a foot controller to operate the software on the computer with midi commands. I have used a Behringer FCB1010 midi foot controller, but lately I have been getting used to Keith Mcmillen's Softstep. Each one has its own issues but I'm hoping I can get around the Softstep's bugs because is much smaller and easier to pack.
What kind of gigs do you get with your new school style?
At first I wasn't sure which direction to take to find places that would let me play. I ended up playing solo gigs at the same venues that host local rock bands. Since I amplify the bass with effects it has its place in rock clubs.
Any traditional playing gigs?
Since I am using a traditionally classical instrument, I have played my compositions on classical Chamber concerts to showcase the new things that are happening with string instruments and technology. It might not be as loud as the rock venues but it is nice to have the option of playing in both loud and intimate settings. Recently, I played some looping bass on a Halloween concert with the ACE chamber ensemble.
Do you have albums where we can hear your new school style?
I just released my first album, Uh Oh, Here Come the Pig Mammoths. Here is the synopsis:
Uh oh, Here Come the Pig Mammoths is my debut album telling a story about an imaginative young man's adventures to rescue his brother. Using only my double bass to compose and record all of the audio for the entire soundtrack, I created a layer bass sound world. I was inspired by my favorite childhood films, television shows, and books, including The Dark Crystal, Labyrinth, The Twilight Zone, and the works of J.R.R. Tolkien and Robert M. Pirsig. Musically, it plays with the dark and lively elements attached to the opuses of high-energy bands and composers like Alice in Chains, Pink Floyd, Prokofiev, and Stravinsky. The album was entirely written, performed, engineered, and mixed by myself, and mastered by Grammy®-Award-winning mastering engineer Silas Brown, with artwork by Bizhan Khodabandeh. It was fully funded through the fan funding website Kickstarter.
Where can we find you on the web?
My website (toddbass.com), my Facebook page and Twitter. I also really like Vimeo and have some videos there as well.
What's next for you?
Lately I have been putting a lot of time into the new indie band I am playing with, My Darling Fury. I am the bassist, but so far I am strictly playing upright through a healthy sized effects pedalboard. We just recorded and released a wintery song for the holidays and you can hear lots of layers of bowed upright bass.
It can be streamed on Soundcloud.
For 12+ years, we've worked hard to support and promote the global bass playing community. Now, we're asking readers for help. Your donations will be used to cover No Treble's ongoing expenses, and all donations come with a reward. Learn more.