New School: Eric Czar
Eric Czar has been wowing bass lovers on YouTube with his phenomenal compositions and arrangements. Often overdubbing several instruments, Czar isn't scared to step out and play on a 7-string bass, strung E to Bb.
We caught up with this exciting bassist to get the story behind what makes him want to push the boundaries of the low end.
What makes you new school?
Well, I might have a few too many greys to be "new school" (but that's nothing a Sharpie can't fix…) I'm self-taught, so I can't say I'm formally rooted in "old school" either. I suppose it's "new school" to explore the bass as a melodic/solo instrument as well as – or even as opposed to – it's [traditional] support role.
To me, music is such an expressive, evolving and interpretive medium that I try to cultivate as many different "voices" and subsequent techniques as I can, much like a painter adds colors to their palate to add dimension to their work. I guess that's often considered pointless, and/or "masturbatory" in light of the typical role it plays in more traditional music. At the very least, it makes me a better player, and the added vocabulary is really helpful in more visceral improv scenarios.
In the end, it's about the music, and what I feel in my gut that suits it. That tends to eclipse any obligation I may have to approach things solely with respect to what the instrument's name dictates. Hopefully the musician will prevail over the technician that's just showing off when it comes time to perform the end product.
But I do have to say it can be a challenge working with solo bass, and our tradition is rooted in some truth when you consider what most basses are optimized for. It takes technique, proper setup, and most importantly, musical sensibilities to keep it from sounding like you're trying to sculpt with pudding!
How did you discover your new school style?
A lot of it was out of necessity. Trying to fill the sound out as much as possible with the mostly three-piece bands I've been in over the years since all the way back to high school. That got me into exploring chords, two-hand techniques, (which later translated into experimenting with the Chapman Stick, and now 7 string bass), using effects, loopers, etc. pretty early on. I loved playing with a friend's old Roland space echo tape delay as a kid.
Plus, I've always loved fretless bass. I ripped the frets out of my first bass within the first year. Anyone who plays fretless knows just how musical, and lyrical that sound can be. It begs for more than just hammering out root notes (not that there's anything wrong with that!) You really learn to appreciate the emotive qualities of the middle to lower registers. Bach cello suites anyone?
Share some of your videos with us.
There are quite a few, and I like to think they're all pretty different. At least that was the idea. I like to try to challenge myself with each one by exploring a different technique/musical style etc. as well as maintaining some diversity for the sake of the inevitable live show. In this day and age, and from my experience, variety is important to grab, and especially maintain people's attention. And I would say even more so when it comes to bass music, where you're often up against preconceived notions of what bass is/isn't capable of. Here's my solo bass playlist… just let it play, and see where it takes you: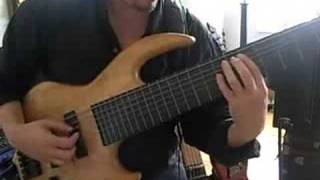 <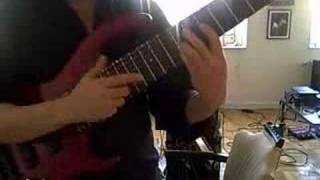 <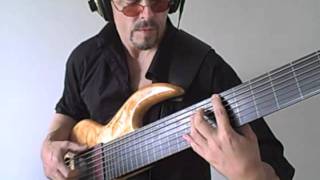 <
<
What kind of gear do you use?
Basses:
Adamovic EC7 of course (which you guys were kind enough to showcase here) Eric Czar Signature 7-string/30 fret bass, co-designed with luthier extraordinaire Nikola Adamovic
Conklin GT7FL 7 string fretless bass modified and upgraded with an Audere 4 band EQ
A 1970's Matsumoku Jazz bass copy, again with an Audere onboard preamp
A stock Curbow 52 that Cort was kind enough to give me for making a video with it
Effects:
I get most of my sounds from a BOSS GT10B, that I spend a LOT of time hunched over (yes, BOSS, a patch editor would be lovely, thanks for asking!)
There are some other pedals involved as well, but I think everyone is entitled to a "secret weapon" or two (or ten).
Some of the best stuff I've learned, or developed stylistically was from trying to figure out other guys' mystery licks and sounds! For instance, Roxy Music's "Rain, Rain, Rain" – KILLER bass sound, and I still don't know what the brilliant bassist Alan Spenner used to get it! Anyone?
I have no real amp rig at the moment, as it's not exactly practical in New York City, most of the time anyway – between neighbors and trying to lug it around on the subway!
What kind of gigs do you get with your new school style?
I had a residency for a stint at a club here in NYC a couple years back, where I played solo bass for two hours every Thursday. There was lots of looping improv,and a 4-foot long pedalboard! Unfortunately the place closed down before I could really make a night out of it with other "off beat" players like I wanted to. (And no "solo bass" didn't close the club down, I asked… hehe.) And that's something I'm hoping to do again soon.
Any traditional playing gigs?
Well I do "internet sessions", where people send me songs to add bass tracks to using Pro Tools, and the like. Some of them call for 7-string fretted/fretless, and others call for my trusty 4-string Jazz bass, or the Curbow, depending on what the person wants. However, I challenge the claim that you can distinguish between the low E on a 7-string, and the low E on a 4.
And yes, somebody told me they could distinguish between the two.
Do you have albums where we can hear your new school style?
I'm working on that as we speak, and will definitely let everyone I can possibly contact know as soon as it's done!
Where can we find you on the web?
My website is ericczar.com. Otherwise, I can be reached at my YouTube channel or Facebook are the best ways to get in touch.
What's next for you?
Finishing a CD, and a DVD of properly mixed and mastered recordings of existing and new material (all of my videos are demos and are lacking in decent sound quality), performing live, touring again would be great, and possibly some collaborations with other like minded players, (of ANY instruments).
Oh, and more practicing and writing and recording, and practicing, writing and… well, you get the idea!
What else do you want to share?
Well, like so many other 7-string/solo/experimental players, I've survived my share of "string bashing" and the "you're not supposed to do that on a bass" and "old vs. new" school, etc., when what really should be advocated is musicality, above allegiance to procedure.
I've always maintained that it's just a "piece of wood with strings on it" (no offense intended to luthiers and their art! I'm clearly a huge fan!)
There's also the idea that it is "what you do with it, not what you've got…" I think it's important to remember that "old school" was once "new" and the electric guitar was once considered an "amplified abomination"…
Thank you to everyone at No Treble for this, and to everyone for watching, listening and writing!