New School: Jayme Lewis
With a new album and videos (see below) to accompany its release, Jayme Lewis has been taking the online bass community by storm with his awe-inspiring playing and tight band compositions. Lewis puts the bass out front in all the right ways, letting his equally skilled bandmates take the lead when the time is right.
Beginning on piano at age 4, Lewis was seven when he was introduced to the bass by his father, though he didn't take it very seriously at first. One iconic album changed all that.
"It wasn't until I first heard Stanley Clarke's School Days record that I began to take the instrument seriously," Lewis states. "That record changed my life, and I have since then dedicated myself to the pursuit of making music my livelihood."
What makes you new school?
I don't know if I'm being "New School" by doing this, but I think that the core of what I'm trying to do is a modern take on tried-and-true "Old School" tactics. I enjoy virtuosic players who push the envelope with their compositions and performances, and I am really drawn to music that isn't easy to figure out within a single listen. Bands like Weather Report and Return to Forever laid the foundation for these styles of music 30+ years ago, and I feel like I'm just trying to bring back the essence of these sounds with a modern flavor. But at the heart of this I try to ensure that there is a tight pocket and feel-good vibe, with enough Rock to nod your head to. I know that I won't reach the masses with this musical mindset, but I hope that those who enjoy it will be inspired to push their own limits and not tie themselves down to what other people say they should sound like. I say, "Make the music you like listening to."
How did you discover your new school style?
When I was younger set out to sound like a bunch of different players. I thought I was gonna be Victor Wooten once, then I was gonna be like Tal Wilkenfeld, and then I discovered Janek Gwizdala, and I've always wished I could play like Jamerson… I could keep on going down the list, and I'm sure everyone has dreamed of being like their idols, but what I found was this: The more I tried to sound like someone else, the more I just sounded like me. I labored for hours attempting to emulate these players, learning their solos, transcribing bass lines, buying the same gear; it only pointed me back to myself. No matter what, I always ended up back where I started from, with the benefit of learning some of their chops/lines/approaches to music. Now, instead of trying to emulate someone else's voice, I try to incorporate it into my own. That change of perspective has made all the difference in my playing, my understanding of music, and my overall well being.
What kind of gear do you use?
I play M Basses for the most part (MJ4, MP4, MEJ5, M3), but I have some cool wild-cards as well (Gibson Grabber, Guild Starfire, Squire Bronco). My touring rig is two Aguilar DB410's powered by a DB751, and my club rig is two DB112's and a ToneHammer 500. My secret weapon is an A-Designs REDDI (and A-Designs preamps in the studio) and my MusicCord Pro. I always carry my basses in a Mono M80 case, and my back would be broken without my Gruv Gear V-Cart (their FretWraps are also on every bass I own). I play D'Addario strings and use Planet Waves cables. I like effects pedals a lot, and some of my favorites are made by Source Audio, FEA Labs, and Voodoo Lab.
What kind of gigs do you get with your new school style?
Typical gigs for the Jayme Lewis Band are usually jazz clubs, music schools, clinics, and places where the audience is mostly made up of musicians.
Share some of your videos with us…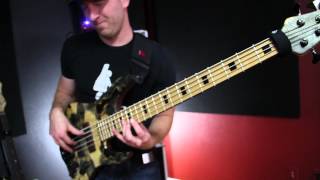 <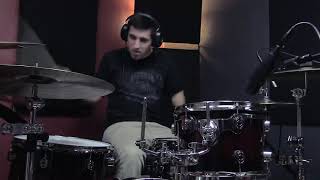 <
<
Any traditional playing gigs?
Actually, the majority of what I do is playing traditional gigs. Part of what made me want to play my own music was that I wanted to show people I can do more than "Sweet Home Alabama". My career thus far has been primarily as a sideman; I play in cover bands doing bars/clubs/casuals, I participate in different worship teams at churches in my area, and I tour with a few different artists around the country. I get a lot of recording work too, and it's just about always Pop/Rock tunes for TV/Film. I used to get A TON of country gigs too, though they have slowed down in recent years. And my degree is in classical music, though to be honest I haven't really done much within that genre since leaving the university.
Do you have albums where we can hear your new school style?
When Will Then Be Now is available on thebassist.net. All of my music is also available with complete bass transcriptions, play-along jam tracks, and exclusive instructional videos at thebassist.net.
Where can we find you on the web?
My main web site is www.jaymelewis.com, and I also teach bass lessons online at thebassist.net.
What's next for you?
I'm hoping to travel a lot this next year to help promote my music, my online lessons, and my book, Advice for the Modern Worship Musician. I enjoy my work, and I'm praying that I can continue to do it.
What else do you want to share?
The hardest thing to do in life is to know where you want to go. But the easiest thing to do is to get there. Once you have a direction you can plan accordingly, take the necessary steps and you will eventually end up where you wanted to be (if you are diligent enough). However, if you don't know what you want from life then you have no starting point, no check list, and no steps to take. I know a lot of people who ended up nowhere, and it's because that's where they stayed. I realized a long time ago that there is no standing still; you either move forwards, or you fall backwards.